Wizard of Oz blog - 2011 entries
December 27,2011. Segment from the new Russian ballet - Wonderful Wizard of Oz


December 25,2011. The 'wizard of Oz' tells Santa's story.By Leslie Cockburn is the young adult and adult services co-ordinator at the Fredericton Public Library.


Long ago, at the turn of the last century, a wonderful storyteller created a delightful fantasy, The Life and Adventures of Santa Claus, "to explain the origins of Santa Claus and all that goes with him."
That storyteller was L. Frank Baum, who also published the world-famous children's story, The Wonderful Wizard of Oz.
When Baum turned his hand to telling the tale of Santa, not only was he telling a fairy tale, he had a cautionary message to impart to a world that, according to Naomi Kleinberg, who wrote the introduction to his book, he perceived as rushing headlong into modern madness.
It is a message even more pertinent today, she says, in a world that is, more than ever, in need of a few generous deeds.
There are many serious biographies of Santa Claus and many variations of the Santa Claus legend. And many of these reside in your local public library. But the loveliest of all, I think, is L. Frank Baum's version of events.
His fantasy explains the origins of Santa Claus and every detail of his life from birth to immortality. This Santa is mythical and magical, and a truly benevolent spirit who bestows gifts on all children (good, bad, naughty or nice, he makes no distinction).
"In all this world, there is nothing so beautiful as a happy child," says good old Santa Claus; and if he had his way, the children would all be beautiful for all would be happy."
Baum's Santa was raised by the wood-nymph Necile in the great Forest of Burzee which was peopled by fairies, knooks, ryls and nymphs, immortals all.
But when this sweet child grew up the Master Woodman of the world showed him the world of humans (Claus' real home) and set him on his life's work.
Claus resolved to befriend the little ones of his own race and try to make them happy.
Claus made his first toy that first winter in his home in Laughing Valley where Baum claims he lives to this day. He was snowed in and to pass the time, he whittled the image of his very own cat.
He gave it to Weekum, a small child he rescued from a snow drift. Soon other children came to his home asking if he would make a toy for them. He didn't say no, not Claus.
Baum tells us how Claus become Santa Claus, why he delivers gifts by reindeer and sled, why he only comes on Christmas (it was a deal make with Will Knook, the chief guardian of the deer), and why he has to come down the chimney.
(In this tale, deer became "reindeer" because Claus had to make reins to hook them to his sled; other deer never knew to touch of a rein.)
Baum closes by saying that even though Santa Claus is rarely seen these days, he, is "still the same loving friend to children that in the old days used to play and romp with them by the hour; and I know he would love to do the same now if he had time.
But, you see, he is so busy all the year making toys, and so hurried on that one night when he visits your homes with his packs, that he comes and goes among us like a flash; and it is almost impossible to catch a glimpse of him."
I wish I'd read The Life and Adventures of Santa Claus sooner! I am very fond of Baum's Santa, a true spirit of Christmas.
Click on the book below to check my inventory of this title.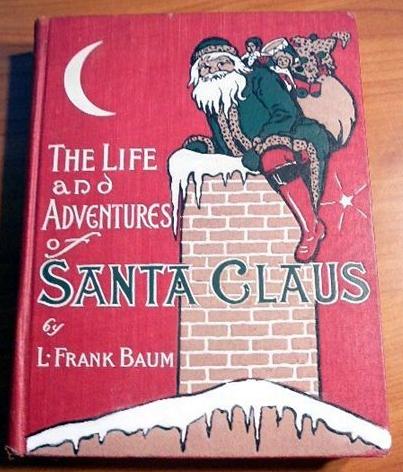 November 19,2011.Creative ways to use damaged Wizard of Oz books.
(1) as a journal, (2) as a lamp, (3) as a clock, (4) carved book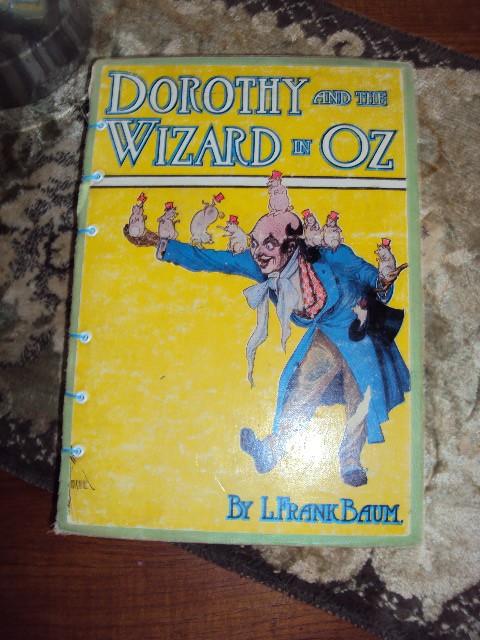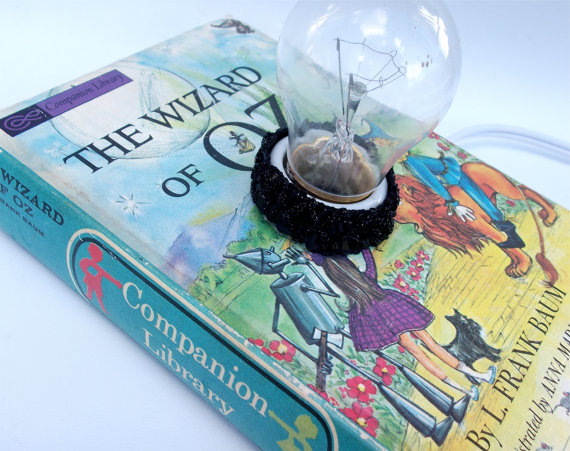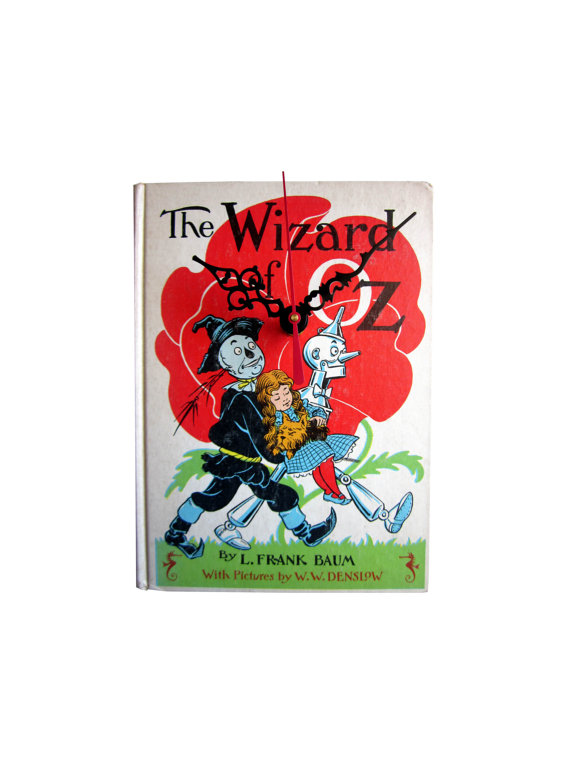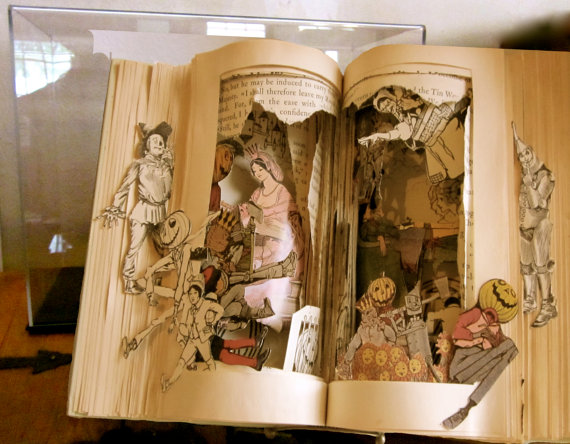 October 27,2011. Received interesting email to sponsor Andrew Lloyd Webber's The Wizard of Oz Facebook.
I am contacting you because my company will be streaming Andrew Lloyd Webber's The Wizard of Oz to Facebook's 800 million fans before the Christmas season and I would like to invite your company to participate in this event.
This will be the first event of its kind and therefore, we are offering a limited number of sponsorship slots at heavily discounted rates. Along with Andrew Lloyd Webber, we will be targeting international media sites to promote this groundbreaking event. Sir Webber promoted this show witha reality tv show on BBC last year that averaged between 4 and 6 million fans an episode. He plans to move the theater show to America in 2012 and to create an identical tv show in the US audience as well.
Therefore, he will be utilizing every asset to publicize this event at a global level.
As a sponsor, you would be able to stream the theater performance on every one of your Facebook Fan Pages. In addition, your logo would be featured prominently throughout the broadcast of the event and mentioned in all press releases.


October 27,2011. Megan Hilty, Lea Michele, et al. on DOROTHY OF OZ (TV Content)


October 5,2011. Just received a few photos from The West Lafayette Community School in West Lafayette, IN that worked with me to promote Frank Baum books and memorabilia to children.

If you are initerested to promote Baum books in your local school also, I would love to help.

Below are a few images from school Oz display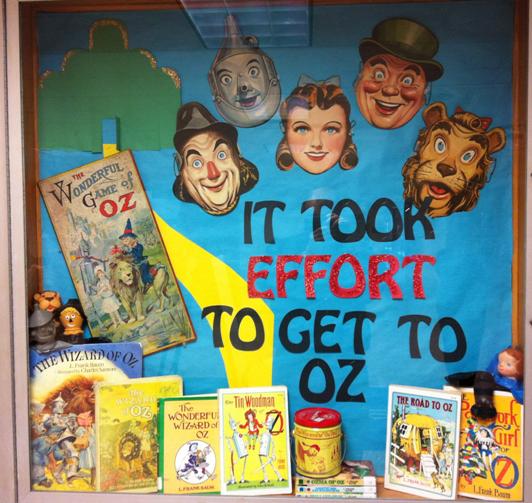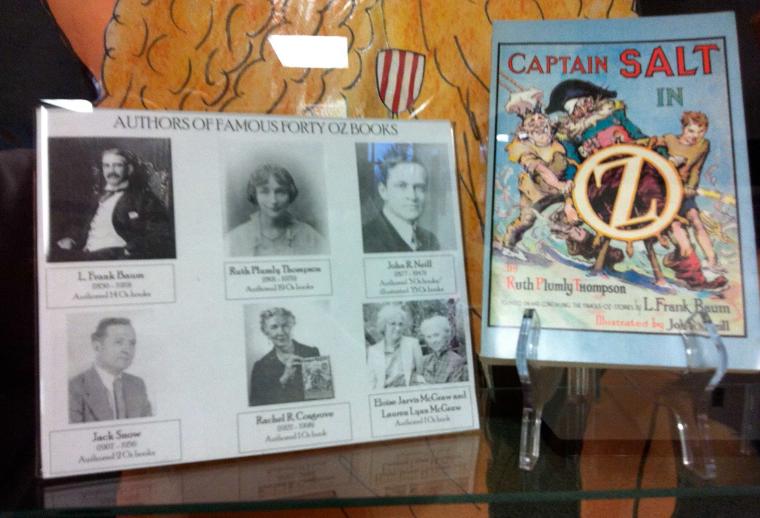 September 22,2011. Nice version of Ding Dong The Witch Is Dead song



August 20,2011. Nice Glinda and Dorothy song from new Wizard of Oz musical in London.


August 19,2011. Summer Cinema's Best #1


August 18,2011. Interesting take on Wizard of Oz in Japan.




August 7,2011. Interesting fact from one of the collectors.
One is of a drawing my grandfather did for me in the late '60's. Did you know at that time, the Wizard of OZ book was in the adult section of the library and you could not take it out if you were not 18 or without your parents written permission? The drawing my grandfather did as a retired draftsman is taken from the book they had that I finally was able to checkout out the library at the age of 14!? I have kept it all these years as as a memento of him.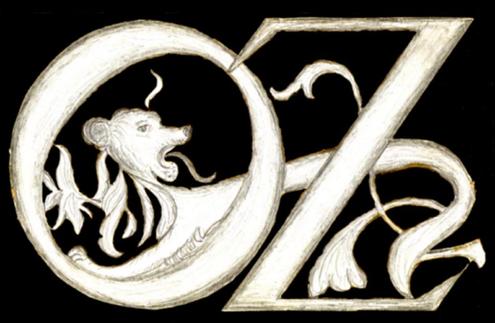 August 4,2011. "The Wizard Of Oz" Is Facebook's Most Explosive Page.
This week's fastest growing pages include many surprises, such as the number one ranking of The Wizard Of Oz page. Read on for more, and if you like what you see here, don't forget to look over our detailed statistic tool used to build these rankings!
Facebook's Most Explosive Pages
| Name | # Of Fans | Daily Growth | Weekly Growth |
| --- | --- | --- | --- |
| 1. The Wizard Of Oz | 538,945 | 263,028 | 499,716 |
| 2. Mostafa Shaban | 403,128 | 98,580 | 205,758 |
| 3. North Carolina Tar Heels | 364,047 | 51,435 | 128,891 |
| 4. Zoom TV | 840,422 | 1,660 | 108,556 |
| 5. J-Ax | 429,170 | 4,025 | 98,812 |
| 6. HadiseTV | 230,920 | 88,803 | 90,153 |
| 7. DJ Mag | 145,588 | 6,595 | 82,747 |
| 8. Autodesk Students | 242,005 | 242 | 80,381 |
| 9. "Rizzoli & Isles" | 386,996 | 1,406 | 78,596 |
| 10. "Shark Week" | 284,537 | 15,310 | 76,307 |
Full report: http://www.allfacebook.com/the-wizard-of-oz-is-facebooks-most-explosive-2011-08

July 31,2011. New Wizard of Oz movie mentioned on John Stewart National Show during an interview with Rachel Weisz

Full intereview article and video


July 31,2011.Article in newspapers mentioning that Rick Harrison from "Pawn Stars" show invited me to appear on the "Pawn Stars".
Fred Trust, of Baltimore, came with several books that were written by L. Frank Baum, author of "The Wizard of Oz." All of the books Trust brought were variations of "The Wizard of Oz" theme. They were first editions, written by Baum at the turn of the 20th century.
Harrison gave the books a serious study. Instead of making Trust an immediate offer, Harrison asked Trust to appear on "Pawn Stars." Harrison said he would have a special expert on such books appear on the show with Trust. Harrison said that maybe he and Trust could make a deal once that expert gives his opinion on the books. Trust said he was elated.Full Newspaper Article of "Pawn Stars event"


July 30,2011. Just return from Mt. Pokonos in PA where I was one of 1700 participant to "Pawn Stars" shows. MY goal was to convince them to put a segment about Wizard of Oz books in the National show. This place was packed with people bringing various items.95% of participant do not have a chance even to make to the real team, but My first edition Oz book and first edition Mother Goose in Prose got their attention right away. Rich and his team spend around 10 minutes with books and at the end I convince them to invite to their show as long as I am willing to travel to Las Vegas. At the end when Rick publicly invited me, people in audience strted to clap. It was exciting moment for me to promote Oz down the line.
Below are a few photos that my wife took.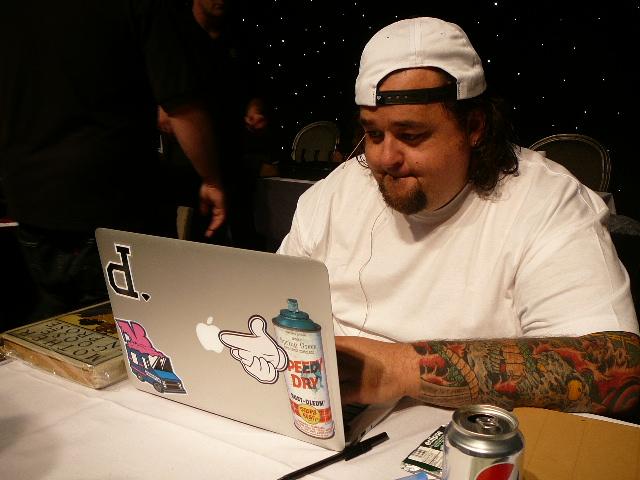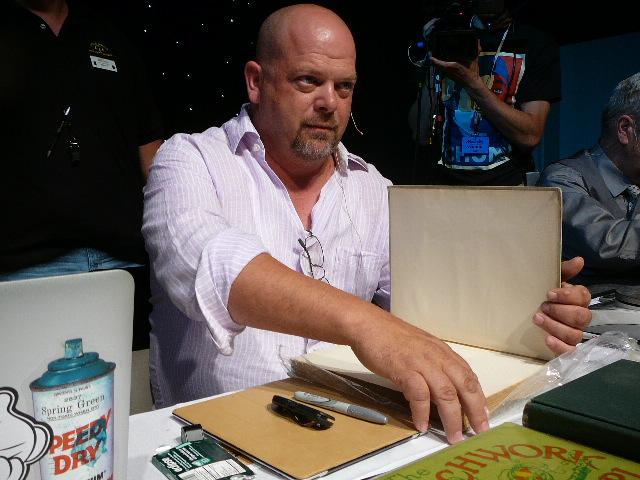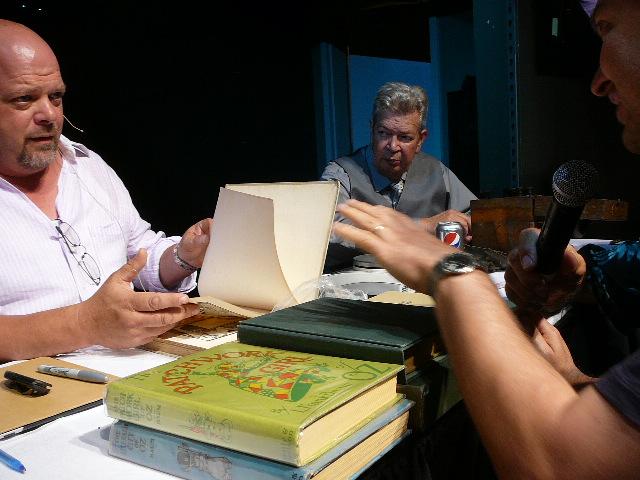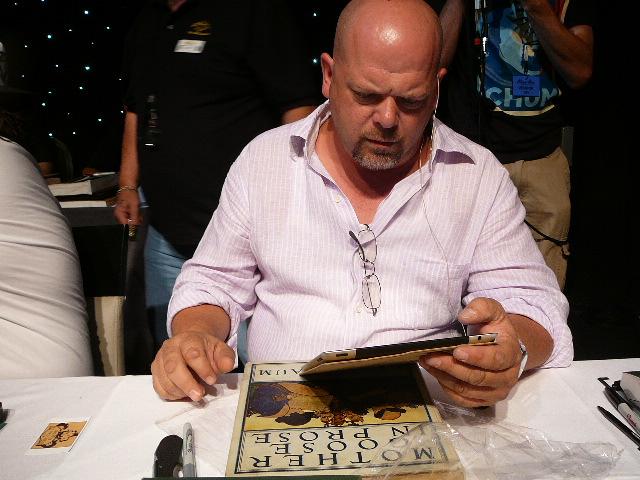 July 28,2011. I visited a coin collectors yesterday and to my surprise I discover coins made during Civil war by Book sellers. See images below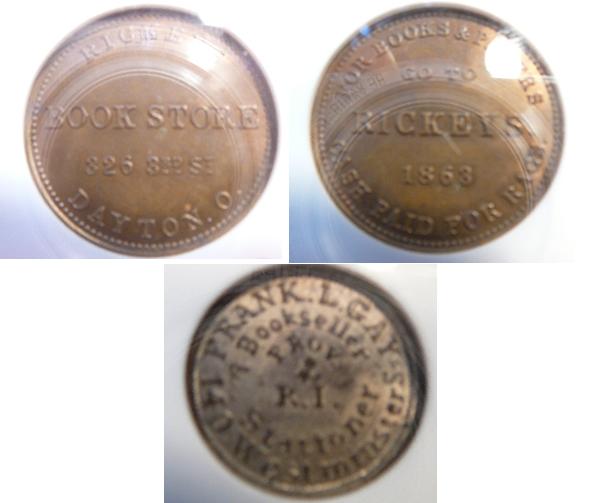 July 21,2011. 1902 stage new musical maybe shown in New York theather in 2012. Check
website
for additional information.


July 19,2011. New way to read Wizard of Oz book in 3D through universal App. See sample below


July 10,2011. Wicked will be showing during the summer of 2011 at John F. Kennedy Center for Performance Art located in Washington DC. I contacted the theater and offer to display Oz memorabilia during the summer months in conection with Wicked performances. Below you can see an images of the display from my collection in front of family theater for viewers to enjoy.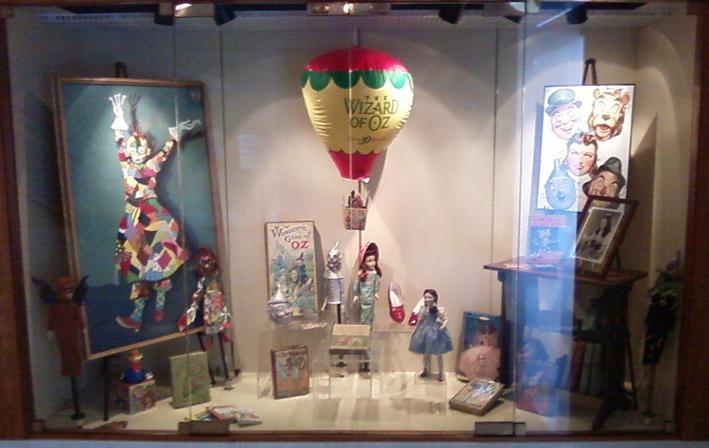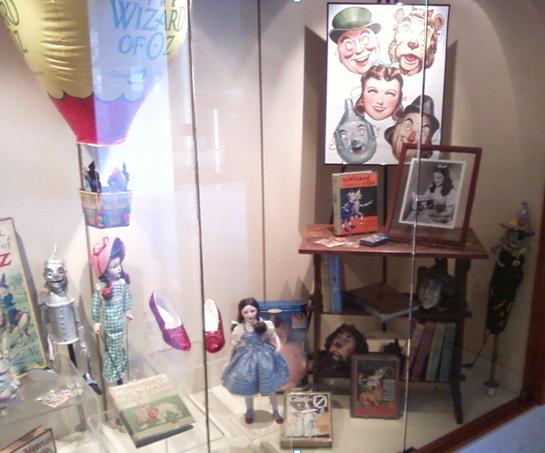 July 9,2011. Gregory Maguire wraps up 'Wicked' series
NEW YORK (AP) — It's flyaway time for the "Wicked Years" series.
"Out of Oz," the fourth and final volume of Gregory Maguire's million-selling take on "The Wizard of Oz," will come out on Nov. 1.
Publisher William Morrow announced Wednesday that "Out of Oz" will feature all sorts of magical mayhem, with the Emerald City plotting an attack on Munchkinland, while the Cowardly Lion runs for his life. Young Dorothy pops in for "something more than a cameo."
Maguire's "Wicked," published in 1995, was adapted into the long-running Broadway musical of the same name. His other books include "Son of a Witch" and "A Lion Among Men."


June 27, 2011. The Wizard of Oz currently holds the biggest advance of any show in the West End.
The Wizard of Oz, currently running at the London Palladium co-produced with Bill Kenwright, has recently extended its current booking period through February 2012.
The Wizard of Oz currently holds the biggest advance of any show in the West End, and is grossing more on a week-to-week basis than any other show, Kenwright has told Playbill.com. "Since we opened, it has been difficult, if not impossible, to get tickets for any of the three weekend performances that always play to capacity; we've averaged just below 85 percent in a two-and-a-quarter-thousand-seat theatre, and returned a third of the capitalization just 12 weeks after the opening night. It's a hit!"
The producer also revealed that they are currently in negotiation with "a major star" to take the show to Broadway. Productions are planned for Canada, Australia and a U.K. tour.
May 26, 2011. Roycraft dust jackets
About 1959, eleven Oz titles were issued in new dust jacket designed by acommecial illustrating firm; they are signed "Roycraft": The Wizard of Oz, The Land of Oz, Ozma of Oz, Dorothy and the Wizard of Oz, The road to Oz, The scarecrow of Oz. The Lost Princess of Oz, The Tin Woodman of Oz, The Hungry Tiger of Oz, Pirates in Oz and Speedy in Oz.
I was contacted today by Jeanette Roycraft to pass information about her father who illustrated these dust jackets. Below is the message:
Just a comment with some information for you...my name is Jeanette Roycraft, and I am the daughter of Roland Roycraft, the artist of the "Roycraft" dust jackets of 11 of the Oz books re-issued around 1959. I found your site thru a google search. My dad is near death (he is 93), and I am doing research for the eulogy. I knew he'd done the dust jackets for the Oz books, but didn't have much info beyond that. My dad went on to become an accomplished watercolor artist and a signature member of the American Watercolor Society. His website is http://www.roycraftwatercolors.com/ and he is the author of two watercolor books. I am interested to see that the "Roycraft" Oz books have become so rare and collectible. I just thought you might be interested in some background information on Mr. Roycraft as you are such an avid Oz collector.
I would like it if the fans of the Oz books could get to know the person behind the quirky and whimsical dust jackets. I wish I knew exactly how Dad came to do those dust jackets, but I don't know that story. However, to my knowledge he never did any other book covers or dust jackets. Prior to the Oz books, he did do numerous covers for printed sheet music in the 40's. He had some work printed in The Saturday Evening Post, Life, and Look. In 1974, after retiring from his job in Chicago as a commercial artist, he began watercolor painting. He began giving classes in his basement and eventually gave workshops all over the country. In the late '90's he was an art consultant to Fox Animation Studios for Anastasia, their first animated movie. His two watercolor books came out in 2001 and 2006, and he continued painting and giving workshops well into his 80s. He is now in a nursing home in Michigan.
Thank you!Jeanette


May 19, 2011. Wicked Witch of the West's crystal ball from Wizard of Oz sold for $129800;


May 19, 2011. Oz: The Great and Powerful: All Star Cast includes Awards Contenders Williams, Franco, Kunis, Weisz
The acting chops of Sam Raimi's Oz: The Great and Powerful are looking good. Michelle Williams is joining the already stellar cast to play the good witch, Glinda. James Franco is Oz, Weisz and Mila Kunis are sisters Evanorah and Theodorah (evil witches of the East and West, respectively).
Franco, Williams and Kunis were each nominated for several awards in 2010, while Wiesz won a best supporting actress Oscar in 2005 for The Constant Gardener.
From the beloved L. Frank Baum novel, scripters David Lindsay-Abaire (also nominated for an Oscar last year; best adapted screenplay for Rabbit Hole) and Mitchell Kapner have created a prequel telling the story of how the Wizard became the ruler of Oz.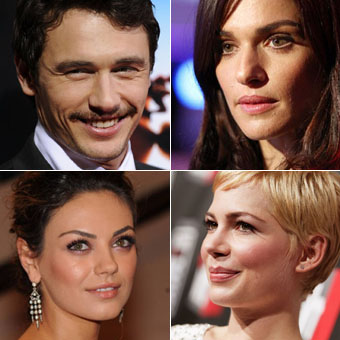 May 5, 2011. Rachel Weisz Headed to the Land of 'Oz'


April 23, 2011. Advertisment for upcoming 4D movie.




April 22, 2011. Autographed letter signed by Frank Buam below sold at Bonhams auction on April 20, 2011 for $14,640 (including commisions).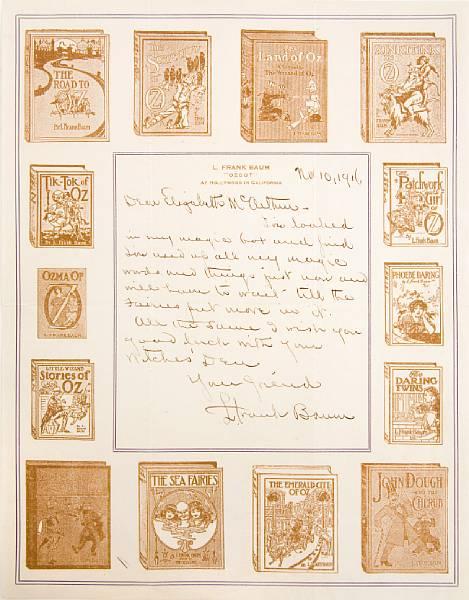 March 30, 2011. Lady Gaga given Judy Garland's ruby red original slippers.
(This is Gaga's speech after she received her birthday present, a pair of Ruby Red slippers from The Wizard of Oz. In the set, this happened prior to a piano only rendition of "Born This Way".)
GAGA: I have a funny little story. So, one of my favorite presents I was given for my birthday is from everyone that takes care of my clothes backstage, the wardrobe department. They bought me an original pair of one of the sets of shoes that Judy Garland wore in The Wizard of Oz. Little did they know that I have a real background with these shoes.
Because, number one, the Monster Ball was created as a sort of punk rock answer to The Wizard of Oz. But secondly, because when I was in high school we did the Wizard of Oz in school and I auditioned for the show and the biggest bully who bullied me when I was a kid got the role of Dorothy.
She was older than me, and I'll never forget it because I wanted to be Dorothy so bad, but I was in eighth grade and she was a junior. And I definitely deserved to get it. But I didn't get it. And then, I remember, she'd be in the dressing room when I was getting ready. I was one of the... one of the people in the chorus. Like the worst role. She used to pour... Do you know? Are any of you dancers? She used to pour Coca Cola on her shoes ... If you pour Coca Cola on your shoes they don't slip onstage. So she would would pour the Coca cola on her shoes. And she'd look at me and say, "Just in case I slip in my ruby slippers." F------ bitch.
As I talk today to the Wizard of Oz and my life, which ended up a little bit of differently, I just have to say on behalf of myself, and all the girls bullied around the world, now these f------ ruby slippers are mine.
And maybe you don't feel like Dorothy today. Maybe you feel like someone else, or the Scarecrow, or maybe you feel like the Tin Man, or the Wicked Witch. Just know that the only way of accomplishing things in your life is to change things, and that someday, somebody will hand you a pair of ruby slippers.


March 20, 2011. 1987 editon of Wonderful Wizard of Oz (value $25) advertised as a second printing, sold on ebay for over $2000. See image below.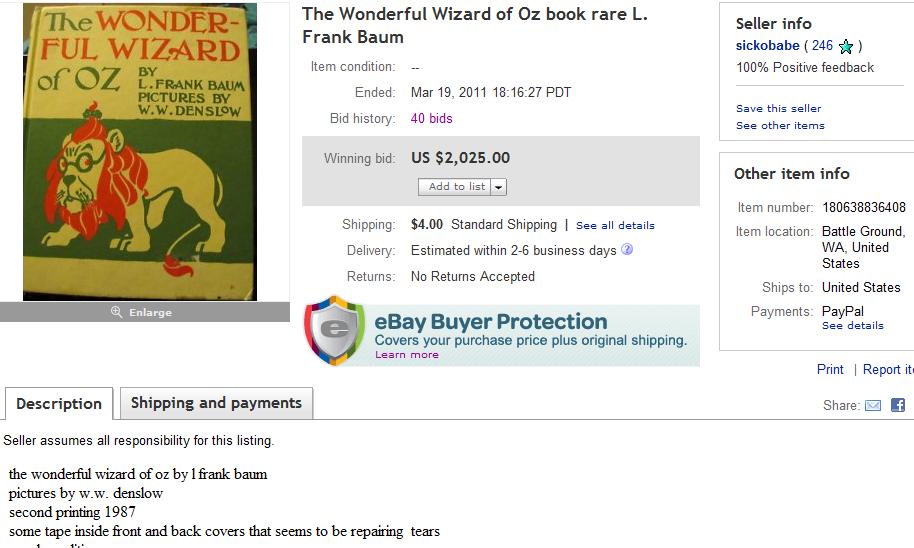 March 2, 2011. Sneak Peek of West End's THE WIZARD OF OZ

March 1, 2011. The Wizard Of Oz opens in the West End
In addition Lloyd Webber responce below for plans in US
Obviously we're about to see what happens to The Wizard of Oz in the West End, but how do you see it playing out in America?
ALW: I don't know what exactly we'll do at the moment, but I'm in quite advanced talks now with more than one U.S. network about doing the TV casting show over there, it having worked so well over here. There's a question in America, of course, if you are going to do a show like that, "Why if you live in Oklahoma would you vote for a girl who is going to be on the stage on Broadway?" So one of the things we want to do in doing this TV show is to try to work out what kind of end-game from the television point of view would be the best thing.
That might well be that we do a gala night of the whole thing in Kansas, or we do a television special out of Kansas; whatever happens, it is very heavily a theatrical production, it would have to go to a big theatre, but not necessarily on Broadway: one of things about Oz is that it is such a well known tale and a completely American story, so it doesn't depend on going to New York. The original musical did back in 1903 or whatever it was, and in fact I think if I'm not much mistaken it may have even opened the theatre where the Phantom is, the Majestic. It was the theatrical version of it that gave the book a huge new impetus, and apparently [the book's author] L. Frank Baum didn't like it particularly but once he started getting the royalty checks he seemed to change his mind! Full article

February 24, 2011. Updates related to film Witches of Oz from Leigh Scott


February 18, 2011. Mila Kunis signed on to play the Wicked Witch of the West and James Franco secured leading role


February 16, 2011. According to latest news Mila Kunis (Russian girl) will be playing wicked witch of the west. According to video below WIzard of Oz is her favorite movie from chidhood.
January 18, 2011. The secret of Oz - Very nice 2010 award winning documentary explaining that The Wonderful Wizard of Oz is loaded with powerful symbols of monetary reform which were the core of the Populist movement and the 1896 and 1900 president bid of Democrat William Jennings Bryan.


January 17, 2011. Since Danielle Hope from London "Wizard of Oz" musical started rehersal with Toto
, I started to wonder if Toto as smart as Jesse in the video below

January 16, 2011. Wizard of Oz still inspiring famed director John Waters (www stands for Wicked Witch of the West)


January 10, 2011. Wicked to Become Mini-Series