Frank Baum - The Wonderful Weekend of Oz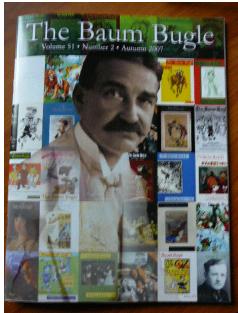 The International Wizard of Oz Club invites you to journey with us back to the birthplace of Oz...






---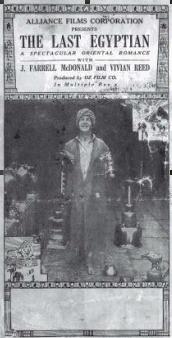 • See L. Frank Baum's live-action film, The Last Egyptian, based on his anonymous novel for adults. On screen for the first time since 1915, three reels of footage from this long-lost 5-reel fi lm have been discovered and preserved. With comments by Oz scholar Michael Patrick Hearn.
• The Maid of Arran, author L. Frank Baum's first theatrical success, will be performed as a live readers' theater event.
• A MusicalOz Review offers a rich variety of highlights from more than 100 years of lively Oz and Baum stage and screen productions. Performed for us live by Josh Smith and Comnpany.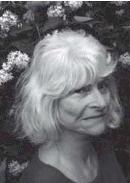 • The Wonderful Women of Oz: Alison Lurie, Pulitzer Prize winningauthor, is known for her Oz interests and widely respected for her expertise both in children's literature and women's issues, Ms. Lurie appears Saturday as a special guest of the IWOC.



• Annual Gage Fund-raising Auction hosted by Tom Thomas at the elegant Wellington House—great food and drink, with one-of-a-kind Oz collectibles. Sunday afternoon.
• Robert A. Baum, great-grandson of the celebrated Oz author, and his wife Clare will introduce The Dreamer of Oz Friday afternoon. Enjoy their in-character performances as Frank and Maud, kids' storytelling and other fun contributions to the event.
• Treasures from the Oz Collection of Syracuse University: Characterized by Mr. Hearn as "the best and deepest [Oz/Baum collection] ever donated to a public institution," selected material will be featured in a special walk-through with the collection's curator. The collections of Russell P. MacFall and Fred M. Meyer are the basis of this outstanding collection.
• Incredible, Edible Oz: Dr. Sally Roesch Wagner, director of the Matilda Joslyn Gage Foundation, teams with Oz collector Jane Albright for a review of Baum and Gage family recipes, cookbooks and fun food products tied to Oz.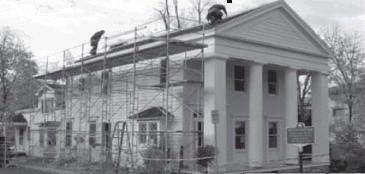 • The Matilda Joslyn Gage Home, where Frank and Maud were married,is in the midst of extensive restoration. Don't miss the bedroom window pane where Susan B. Anthony scratched her name. There's even an archeological dig underway in the back yard.
• Quilts of Oz: dozens of hand-made quilts featuring Oz themes and characters have been created for exhibit by area quilters to support the work of the Gage Foundation.
• Early Music of Oz: The Motto Sheet Music Museum in the Fayetteville Free Library will exhibit Oz-related sheet music from Club member collections, including rare selections, such as "The Maid of Arran," on loan from Robert Baum.
• Through the Lens with L. Frank Baum: Baum often captured his area visits with both interior and exterior photography. Fascinating views of the Gage home through Baum's own photos will be on display.
• Printed, self-guided area tours to Baum's birthplace (Chittenango, NY, just 7 miles down the road), and other Syracuse-area sites will be available.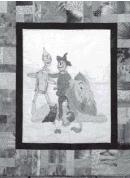 Join the International Wizard of Oz Club in central New York where L. Frank Baum discovered his talent for writing, published his first pages, fell in love with theater, and met his lovely bride. Come tour the home where Frank and Maud were married in 1882—now an historic landmark being restored with photographs he took in 1887. And find the spirit of Matilda Joslyn Gage, the woman who convinced him to write for children. Sponsored for the third year by The Matilda Joslyn Gage Foundation with support from the Fayetteville community. http://www.matildajoslyngage.org Co-hosted in 2008 by The International Wizard of Oz Club. www.OzClub.org
Register for $99 through Aug. 15
Registration after Aug 15 for $128. Fee includes admission to all ticketed events, Friday lunch and dinner, Sunday gala. Many kids activities are free, so their pre-registration isn't necessary; if bringing children, expect minimal onsite expense for their evening tickets, meals and Sunday Gage auction. Check in at the Gage house on arrival. The Historic Gage Home Events begin with Friday lunch and conclude 210 E. Genesee Street, Sunday afternoon following the Gage Gala and Fayetteville, NY 13066 Fundraising Auction. The Craftsman Inn is the closest hotel lodging to the Gage house. They have offered us a special rate of $139 single with a two-night minimum stay. Call 800.797.4464 for reservations. Other local hotels, inns and B&Bs also are available in the community.* Craftsman Inn 7300 East Genesee St. Fayetteville, NY 13066 http://www.craftsmaninn.com Transportation notes: The closest airport is in Syracuse. Private cars are encouraged. Some events are within walking distance, but free transportation between venues is not guaranteed and may not be available. * Although the IWOC board of directors will meet at the Craftsman Sunday morning, no events are scheduled at this or any hotel.
Can you help? IWOC financial support of this event is restricted to private donations. Contributions of more than your registration fee are tax deductible -- and are sure to make this event even more fun for everyone. Send form with check made payable to The International Wizard of Oz Club to:
Donation: $ Lynn Beltz, registrar, 18330 N Hwy 21, Curlew, WA 99118
Registration questions? Contact Lynn at ferrywa@televar.com or phone 509-779-4670
2008 National IWOC Convention October 10-12