The Significance of Frank Baum Signature in signed books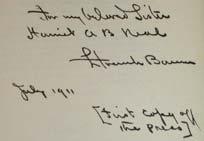 L. Frank Baum signature is one of the most desirable signature for Oz books collectors. There are many types of signatures which can be found in Oz books. Below we'll discuss them, and will also talk about how each one of them affects the value of a book.
In Oz books series, signatures that come to mind are mostly by Frank Baum, Ruth Thompson, John Neill, Dick Martin, Walt Disney and few others. (I included Walt Disney in this list because of the association with MGM movie and Walt Disne'y love of the Wizard of Oz books series).
The page below displays Frank Baum signature and writing on his stationary. Sold in 2006 on Ebay for over $3000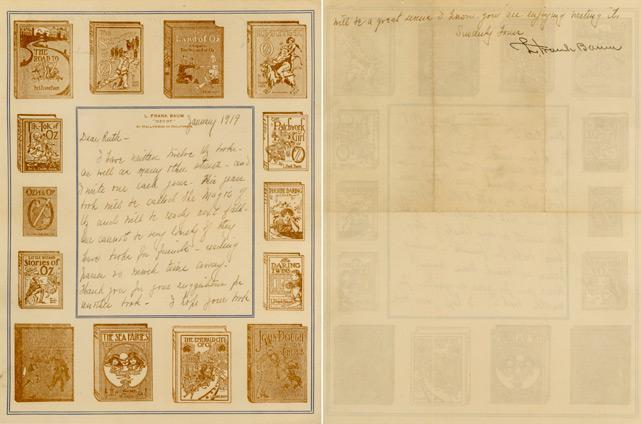 It should be noted that some signatures that are of value to Oz collectors may not even considered to be collectibles to collectors who collect signed books. For example, after examining the 2009 issue of The Sanders Autograph Price Guide, out of 25,000 autographs covered, I could not locate suggested prices for the signatures by John Neill, Dick Martins, or Rachel Cosgrove.
The Sanders Price Guide assigns prices to each signature based on 4 categories below
SIG: Price of just a signature. The signature could be on a card, the back of an envelope or a scrap of paper
LS/DS: abbreviates letter Signed or Document Signed
A.L.S.: abbreviates "autographed letter signed," referring to a letter written in the author's hand, then signed.
S.P. abbreviates "Signed Photograph"
| Name | SIG | LS/DS | ALS | SP |
| --- | --- | --- | --- | --- |
| Frank Baum signature | 1924 | 2947 | 6528 | - |
| Ruth Plumly Thompson signature | 280 | 670 | - | - |
| Walt Disney signature | 1073 | 2395 | 3467 | 4142 |
---
Types of Author's Signatures
Signed Books
"Signed" means that the book has been signed by its author (or perhaps by an illustrator) or editor.
Image of Frank Baum signature

Signed books are much desired by collectors, and, generally speaking, a signature will enhance the value of the book. A dated signature is nearly always considered a good thing, especially if the date of signing is close to the date of the book's publication.
Below is an example of a few images with Frank Baum signature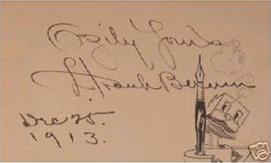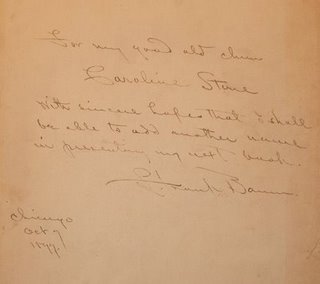 Inscribed books
An "inscribed" book (sometimes also called a presentation copy) has been signed by the author to another person. From a collector's point of view, there are two schools of thoughts about inscribed books.
The first is that inscriptions detract from the desirability of the book. The second is that inscriptions are great; the more the author wrote on the book and the more time he or she spent with it, the better. Inscription makes the book special because the book spent more time in the author's hands, and there must be a story behind the signature.
A simple signature is generic, and nothing exists to connect it to a particular day in the author's life, or an encounter with a particular person.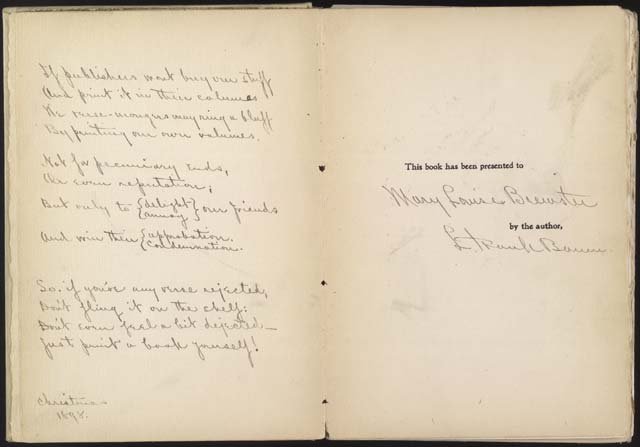 Additionally, if the inscription can be shown to be to someone associated with the author (family, friend, editor, or another author, perhaps), its desirability increases. This is called an association copy. There's always the possibility that, with some research, what first appears to be an unimportant inscription may be shown to actually be an association copy


Association copy
An "association" copy is inscribed by the author to another author, a well-known person, or someone else associated with the author. The term association copy can also be used to designate a book, not necessarily signed, which was owned by someone of note, or associated with the author.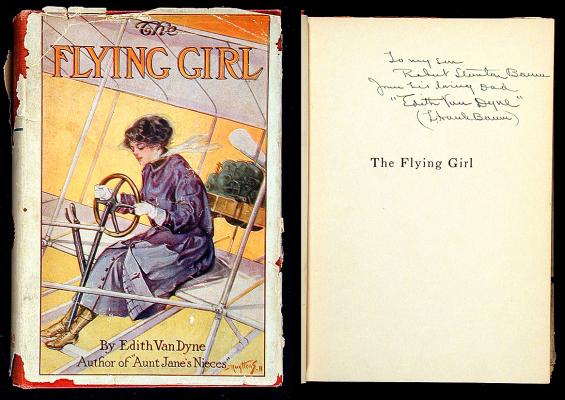 Association copies are very desirable; an association will enhance the book's value.


Dedication copy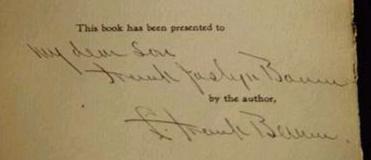 The "dedication" copy is one which the author has signed to the person to whom the book is dedicated. A dedication copy is the ultimate association copy/inscribed copy, due to its rarity.


Signed Bookplates
Bookplates are sometimes signed by the author, then affixed to books by the publisher. However, signatures signed directly on the book are more desired by collectors than those which appear on bookplates.
See this article on bookplates for more details


Ownership Signatures
People commonly sign/date their own books, as a way of recording when they acquired or read them, or of indicating ownership. Such a signature may (or may not) detract somewhat from the book's value; in any case, value is not added.


Gift Inscriptions
A gift inscription simply means that someone, not the author, has written something on the book before giving it to someone else as a gift. Gift inscriptions detract from a book's value.
If giving a valuable book (or one that may become valuable) as a gift, it is a better idea to just give a card (or maybe tuck in a note on acid-free paper) than to write on the book.


How Much Does an Author's Signature Increase the Value?
There's no rule. If a book is signed by the author, it may be worth more than an unsigned copy. The difference could be large, moderate, or negligible, depending upon the book in question.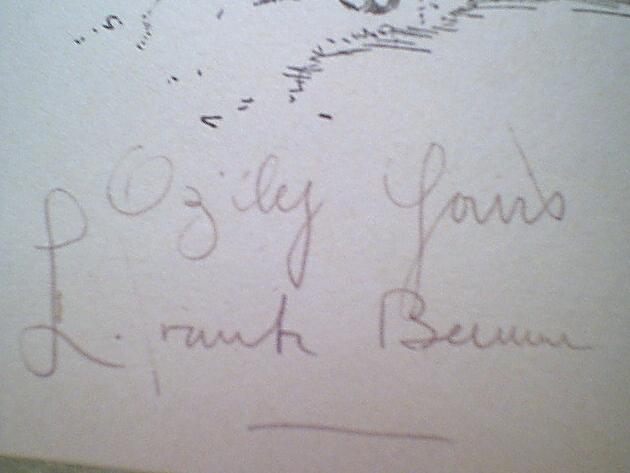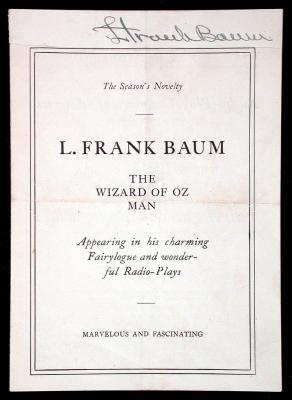 Again, the issues of supply and demand are always worth considering. If the author is very popular, but signatures are scarce, the signature will be in demand. Other factors to consider are whether the author is living or dead (and thus not signing any more books!), if the author signed many books or few, and of course the desirability & collectability of the book in question.
Books signed by heavily-collected authors are much-desired.
The amount will vary depending upon the particular book and author and how easy that signed book is to find.












Recent sales of book with Frank Baum signature
Most recent sales of the book signed by L. Frank Baum took place on March 7, 2009 at the Heritage Auctions. First edition signed copy of Rinkitink in Oz sold for $3585, including commissions.
1st edition Rinkitink in Oz with Frank Baum signature

Another recent example of signed book was privately printed by L. Frank Baum in his own work shop in 1898. This was No. 29 out of 99 copies, inscribed by the author to Dr. Espy L. Smith, the Baum family doctor. By the Candelabra's Glare copy sold for $9600, including commission. Additional details and photos of this book can be found in this article.

By the Candelabra's Glare and Additional Baum's Writing

Of course Frank Baum signature value is worth much more in Wonderful Wizard of Oz title. Below are two links to past sales of Wonderful Wizartd of Oz with Frank Baum inscritptions and signatures.

April 2005 sale of a signed copy of WWOO for $120,000

October 2002 sale of a signed copy of WWOO for $152,500
Frank Baum signature forgeries
It should also be noted that there are a few L.Frank Baum forged signatures presently floating around. While those are not always easy to identify, these are some simple clues that can help with identifying some of them.
None of the Frank Baum signatures should be made by a roller ball pen, since those were invented in 1940s, after Baum passed away in 1919. Also, since Baum died in 1919, the year when Reilly & Britton were renamed to Reilly & Lee, the chances that he signed any books published by Reilly & Lee are very small.
Below is an example of a fake Frank Baum signature from ebay sale. Please note that publisher is Reilly & Lee.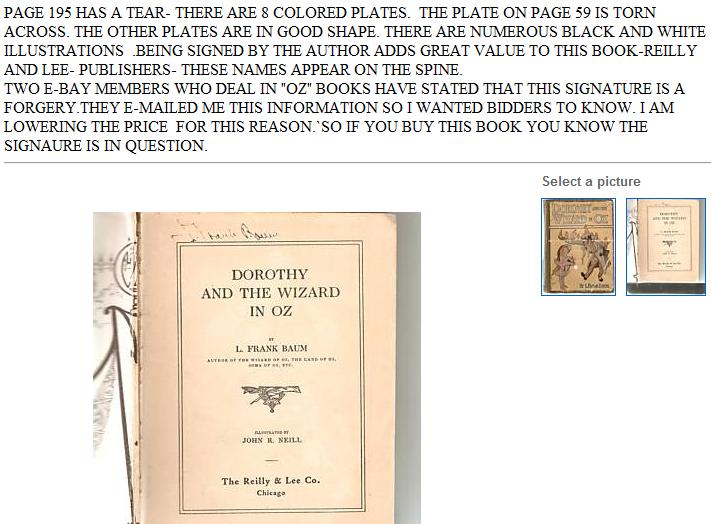 Additional Photos of Frank Baum's Writing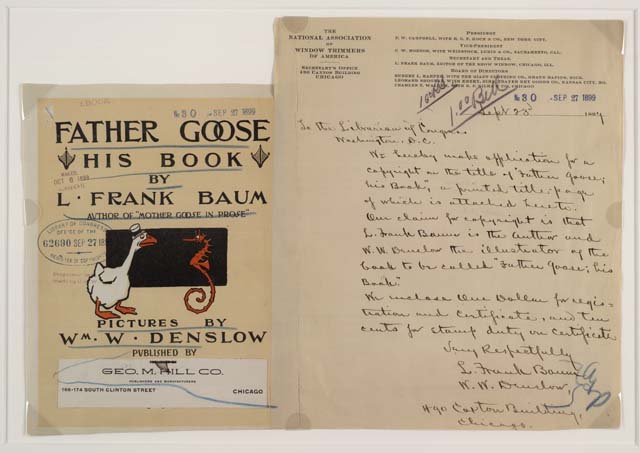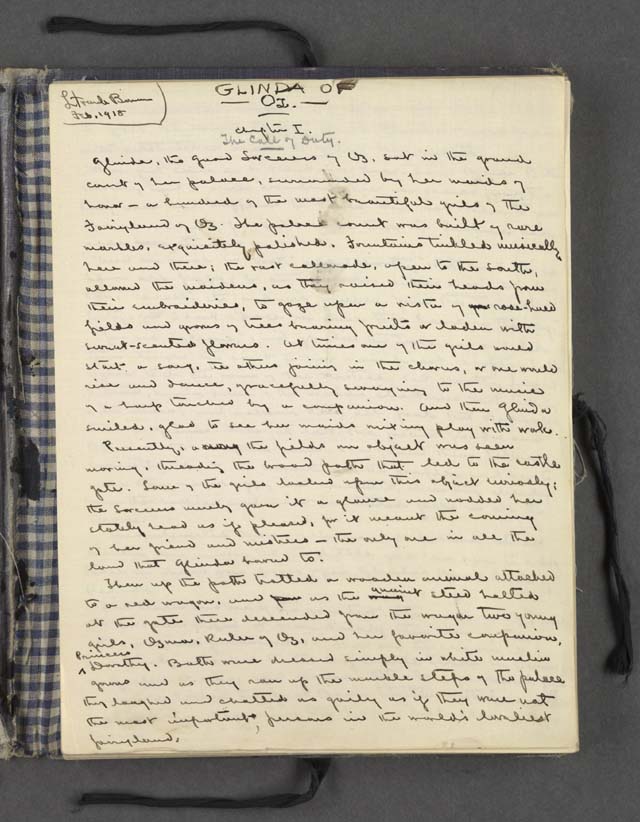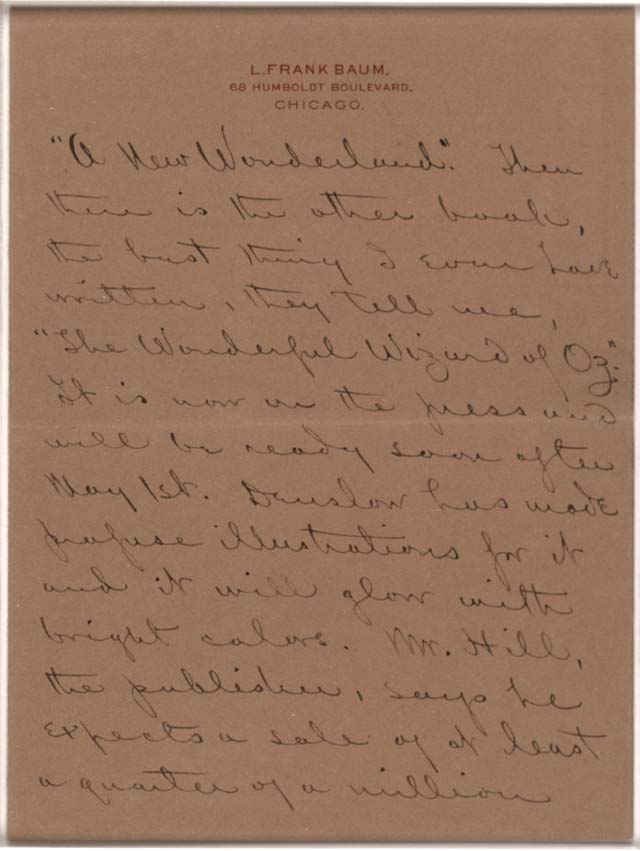 The page below written and signed by Frank Baum on his stationary sold in PBA action for $1800 in the past 5 years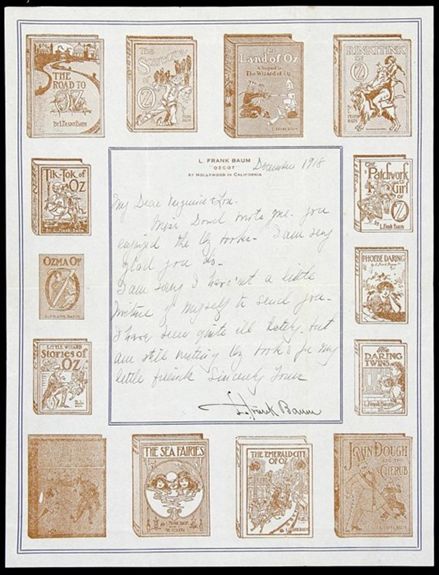 Return from this Frank Baum Autograph article page to Oz Newsletter page

Return from this Author Autograph article page to Wizard of Oz books home page