New Wizard of Oz Movie and its Impact on the Oz Books
Most of you probably saw the new Wizard of Oz movie announcements appearing all over the Internet. In June of last year I dedicated the entire newsletter article on the effect that the various productions have on collectible Oz books. Because of the recent events and renewed interest in the Oz topic, however, I would like to explore this area further.
Over the last few years we have witnessed a very active market in the Wizard of Oz books' series. What is also clearly noticeable is a dwindling supply of certain first edition Oz titles that are in the above average condition and are reasonably priced. The number of copies that were around a few years ago as compared to what is available today is miniscule. We are beginning to see a big appetite for first edition copies in good and nearly fine conditions.
I recently read an article in the Daily Wealth about making money in collectibles. The author of the article outlined three secrets that apply to any collectibles: (1) purchase the best collectible you can afford; (2) buy from the best dealer; and (3) know a reason why it is collectible. These three parameters certainly also apply to Oz books. The collectors increasingly are buying the best copies they can afford, and they also are becoming more familiar with the details of collecting Oz books. Thus, what we are seeing is the increase in demand of approximately 15% to 20% for quality books, yet the supply is steadily decreasing. With the announcements of the new Wizard of Oz movie, I believe that the demand will be even greater. However, let's first get some facts about the new Wizard of Oz movie and other Oz productions. 1. As reported by the LA Times, Warner Brothers has new Wizard of Oz movie in development from "Twilight" producers Temple Hill with a script from the screenwriter of "Shrek Forever After."
2. The Warner Brothers' second "Wizard" movie will be the more modern tale that centers on the granddaughter of Dorothy who returns to fight evil in Oz. According to PRLOG press release on March 19, 2010 Basil Iwaynk has been assigned as Director and Josh Olson as screenwriter.
3. The producer of the most recent phenomenon "Alice in Wonderland," Joe Roth at Disney, has been developing "Brick," a new feature that would take the point of view of the Wizard and explain how he came to sit behind the Emerald City's magic curtain. This would be a re-imagination of many of Baum's "Oz" storylines as the script begins with the Wizard as a con man in a traveling circus who goes on a similar adventure as Dorothy ending up in Oz. Disney and Roth are moving forward quickly with "Brick" and are already considering directors.
4. Universal Studios are going forward with getting "Wicked" into movie theaters.
5. New movie "The Witches of Oz" is due out in the summer of 2010.
6. Lloyd Weber's new musical is steadily going forward.
The interest in the Oz as a subject is clearly evident from these several new Wizard of OZ movie productions that are in various phases of development. As a matter of fact, after the recent announcements by Hollywood about the new Wizard of Oz movie, the original Oz movie popularity increased by 13% just in one week (see image below) according to IMDB.com.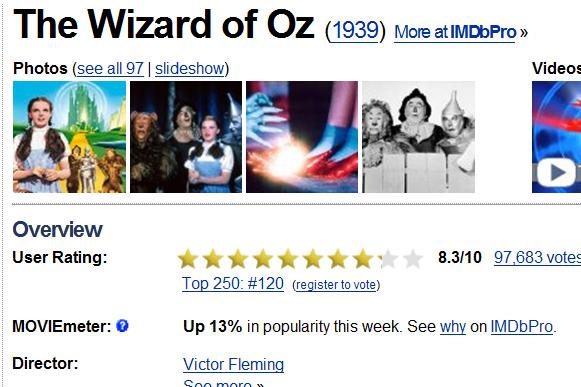 As was recently pointed out by the Movie Talk in the article titled 'Oz' Could be Next Big Film Franchise, "Oz" is tempting for Warner Brothers for quite a few reasons. First and foremost, it could possibly fill the void left when the "Harry Potter" franchise ends. "Potter," of course, attracted an audience that skewed to a younger adult crowd; the same demographic "Oz" would target." All these developments seem to clearly indicate that the new Wizard of Oz movie series is going to be next big phenomena in the near future, and that will have a direct co-relation to the Wizard of Oz books series. With every new Wizard of Oz movie production releases, there will be new collectors interested in obtaining Oz memorabilia, including the original books.
Recently I was carefully watching the sales of first and early editions copies of Alice in Wonderland books on Ebay in order to see the impact of the new movie release on book prices. I noticed that the later edition books that previously were selling on Ebay for under $100, were now fetching over $400 around the time the movie appeared in the theaters. Look at the images below where two copies from 1908 were sold for $420 and $455 (by the way: the original copy of Alice in Wonderland was published in 1865, which is 43 years earlier than when these copies were printed).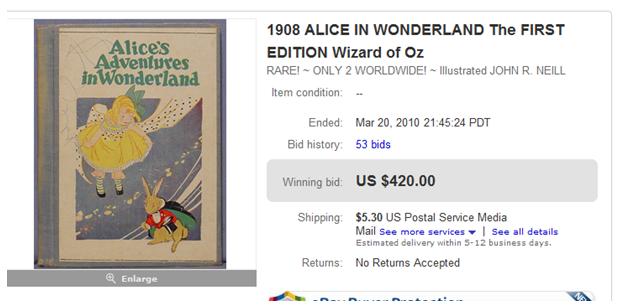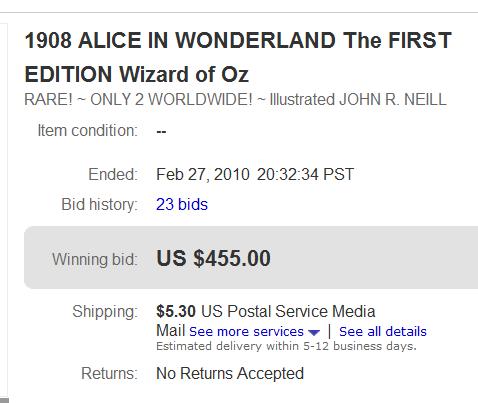 These are extremely difficult economic times for all of us, and we are being more cautious than ever about protecting our hard-earned savings. I talk to people everyday that aren't thrilled with the less than 1% they may get from the bank. All it takes is a 3 to 5 % drop in the value of the US dollar and you find yourself losing money. More and more people are looking for a place to "park" some of their well- deserved savings without losing them. I usually advise them to purchase the first edition copy of the Wizard of Oz book due to various new Wizard of Oz movie announements. These copies do not have the potential to drop to zero value. You can enjoy looking at it, gift it to your children or sell it down the road sometime in the future.
Over time the Oz books series appreciate at least at the same rate as the local economy, 5% or 6% percent a year. You don't get rich, but at least you are not losing your money and hopefully are having some fun. By placing your money in tangible collectible investments like Oz books series you can go back and sleep at night. Stock investors can giggle about collectibles all they want. But investors in rare collectibles like rare Wizard of Oz books will have the last laugh. These days it is very hard to locate first edition copies of Oz books in very good condition. I have numerous long time clients calling me and asking why my inventory is fairly low in the category of the "Near Fine condition". This isn't by choice. I buy every nice copy I can find that is priced within reason. The easiest thing to do in the book market is to spend money. But spending it wisely is not that easy. It remains obvious that fantastic copies are in very strong demand. If you want to succeed in collectibles books, you must stick with the highest-quality books.
The legendary American collector David Hall once shared a big secret about collectibles: "The big moves come when price guides first appear for a collectible." The reason for that, he explained, is that before the price guide appears, you have to be an expert in the chosen field and devote a ridiculous amount of time to learn about the subject matter, track the auctions, talk to dealers, and figure out what is important. But once the price guide comes out, the playing field is leveled significantly.
As most of you know I put together The Wizard of Oz Books Price Guide a few years ago in which I provide guidance on the values of various editions of Oz books that depend on a myriad of factors including the book's condition. I am in the process of developing a system of the uniform condition standards that would be applicable to Oz books. Similar grading systems already exist for coins, baseball cards and even comic books (seal with grade). Unfortunately, there is no generally accepted definition of quality standards for collectible books. Unless one has a great deal of experience and has examined (or better, handled) a large number of books, it is very hard to understand and describe the quality of a book. More worrying is the fact that even among experienced bibliophiles, there can be wide differences of opinion as to what is the standard for each condition of the book ("good", "near fine", "fine", etc.) Since many books are bought unseen with collector relying on descriptions, the lack of objective standards potentially leads to disappointment. Although I provide multiple photos of each book in my store, for the first edition copies of Wonderful Wizard of Oz I put together additional 10 points to enable the purchaser to compare one copy against another. Sample of standard for Oz books
I think that we are in the midst of exciting developments regarding the new Wizard of Oz movie that will have a significant impact on the Wizard of Oz books market. If you do not want to miss the next wave, please spend some time going over the copies of Oz books I have listed in my inventories, and let me know if any of the books ring your bell.
Do you want to provide your opinion about this article ?
Do you have a great story related to this newletter? Share it!
What Other Visitors Have Said
Click below to see contributions from other visitors to this page...

Encouraging article






My elderly parents have asked me to move into their home, no room for all the Wizard of Oz Collectibles. I went to Ebay and saw prices below what I originally …


Return from this Wizard of Oz movie article page to Oz Newsletter page
Return from this New Wizard of Oz movie article page to Oz home page