The Wizard of Oz Collector's Treasury


Many Wizard of Oz collectors, including myself, are constantly striving to promote Oz books and to educate public about the existence of not only the first book, but the whole series of Oz books. It never ceases to amaze me (sadly) how few people are aware of the fact that L. Frank Baum wrote more than The Wonderful Wizard of Oz in this wonderful collection, or that there are subsequent authors who wrote Oz books.

When I was recently interviewed by the Maryland Public Television in order to have an opportunity to promote the Wizard of Oz books, I tried to convince the producer, a person with an advanced degree in English literature, to film not only Oz books by Baum, but also the Oz books by other authors, such as Thompson, Neill, etc. Alas, my attempts were for naught, and the only way they agreed to show other books was by showing spines on the bookshelf. For a video of the interview, please check video below.


This segment about me and my Oz collection aired on January 5, 2012 on Maryland Public Television as part of Chesapeake Collectibles show.

As a member of the Wizard of Oz Collectors group, I constantly see images of what other Oz collectors would like to share with other Oz fans. Most of the time it is dolls, figurines, posters or other post - 1989 (50th anniversary) Wizard of Oz memorabilia. I am often asked by many fans if I collect other Oz items, in addition to books. I generally do not - both for reasons of resources and space. If, however, I were in a position to obtain Oz memorabilia outside of books, I would most likely be looking for pieces that are hard to find. Most of them are listed in "The Wizard of Oz Collector's Treasury" book by Jay Scarfone and William Stillman. This 1991 edition is full of color images and includes a sheet with approximate prices as of the time of publishing.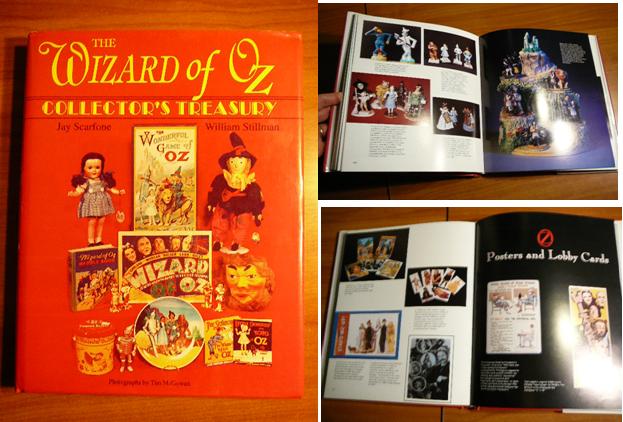 The content of the book is divided into similar types of categories as I have organized in my OzBooksStore. If you are the Oz collector who attends garage sales, flea markets, conventions or antique stores, and has never had a chance to see the contents of this book, I highly recommend that you get a copy of it (I have a few copies available in my store). Wizard of Oz Collector's Treasury book in my store.

Browsing through the two-page Value Guide included in the book, I noticed just a few items that were valued over $1000 in 1991. Some of them, L. Frank Baum's autographs and the Wizard of Oz posters I already discussed in my previous newsletter articles. In this issue, however, I would like to point out other Oz memorabilia that is in the catalog but it is hard to obtain due to its scarcity.


Wogglebug Game


Out of various Wizard of Oz Games, including the hard- to-find 1921 Parker Brothers Wizard of Oz game, the one that is truly rare is the Wogglebug game from 1905. Description and image of this game is shown on page 131 of the Wizard of Oz Collectors Treasury.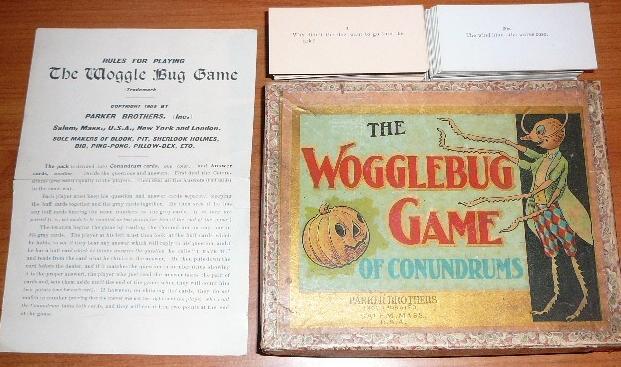 This was the first Oz-related game that was commercially marketed in 1905 by Parker Brothers. The Wogglebug game of conundrums was inspired by L. Frank Baum's "Queer Visitors from the Marvelous Land of Oz" comic character. Much of the influence ended with the name, however, as the game contained no further references to either Oz or the comic page with the exception of fifty-one "conundrum" of riddle cards and fifty-one answer cards--comparable to the puzzling perplexities posed by the intellectual insect. It should be noted that the value of this game in 1992 was estimated to be between $400 to $800, based on the Value Guide.

In September, 2008 this particular game was offered for sale from Fred Meyers' personal collection through the public auction. At that time the game was estimated at between $2500 to $3500 in catalog. It was sold at the auction for $4400. It should also be noted that I heard that there are only six games in existence. If you are interested to learn more or obtain


1939 Scarecrow Doll by Ideal Company


This particular doll was shown on the front cover dust jacket of the book and also on page 95 of the Wizard of Oz Collectors Treasury. "The Strawman by Ray Bolger of the Wizard of Oz." This all-cloth doll is measured 17 inches in height.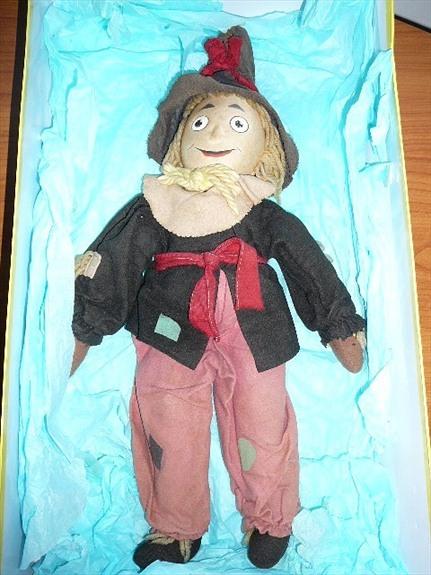 Ray Bolger who playes a Scarecrow in the 1939 movie, upon seeing the doll many years later, remarked that it bore closer resemblance to Fred Stone, famed Scarecrow of the 1902 stage musical.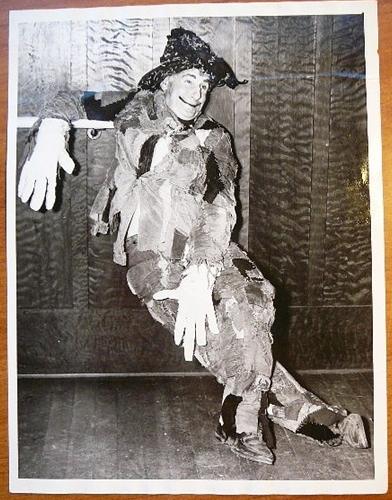 Curiously, the doll's prototype was inspired by the traditional book character before its appearance was altered to better caricature Bolger in his movie role. It should be noted that this doll's estimate value in the Guide in 1992 was from $400 to $800. Interested to learn more or obtain the Scarecrow Doll


String Holders


Although these chalkware character string holders are not in the Collectors Treasury book, in my opinion, they should be. I assume that the authors of the book either did not have them in their possession at the time, or accidently neglected to include them.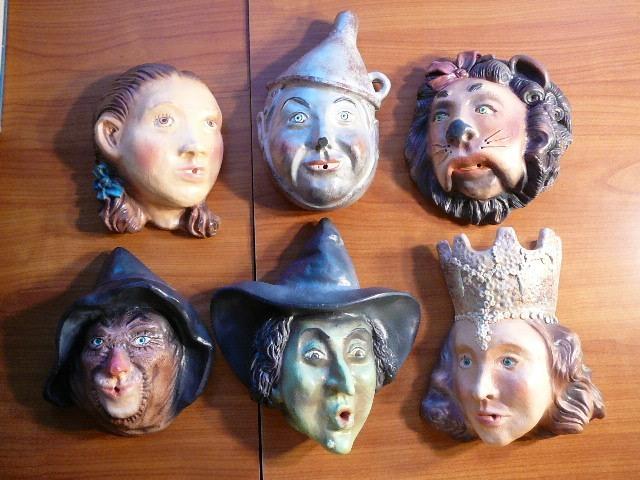 Set of 6, typically measuring between 5.5x7" to 5.5x8". c. 1950s. Each string holder has ©MGM incised text along with numbers "3901-3906" in edges. High relief painted chalk with holes in mouth with string. Recessed backs have original metal hangers at top. Very highly detailed depictions including simulated tarnish to characters face and hats. Each of the 6 main characters were listed for $395.00 in the 2007 edition of Schroeder's Antique Price Guide.
In May 2010, 4 main characters' string holders were sold for $2530 at Hakes auction. Interested to learn more or obtain these characters


1939 WIZARD OF OZ SOAP Set of 5 KERK GUILD Characters Set


VERY RARE AND RARELY SEEN "1939 WIZARD OF OZ SOAP, SET OF 5 CHARACTERS, BY KERK GUILD". When the MGM "The Wizard of Oz" with Judy Garland came out in 1939 Kerk Guild came out with a really neat Ozzy item of WIZARD OF OZ SOAP CHARACTERS (featuring The Wizard of Oz, The Wicked Witch of the West, The Cowardly Lion, The Scarecrow and Tin Woodman).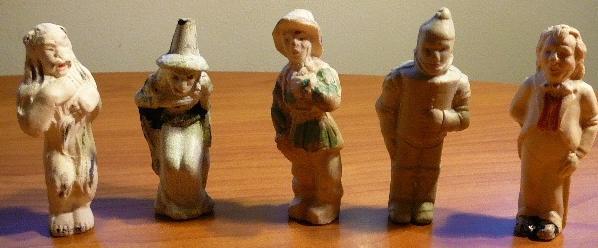 They stand about 4" tall and as you can see they all stand up perfectly fine. This set is in GOOD CONDITION. Each character has some paint loss from being over 70 years old! You can read more about this set on page 123 top right hand side of The Wizard of Oz Collector's Treasury.Interested to learn more or obtain these soapy characters


Pictures from the 1902 Broadway musical


On January 20, 1903 Wizard of Oz musical moved from Chicago to New York's Majestic Theater, running for 293 performances and establishing itself as one of Broadway history's greatest successes at that time. During performances various commemorative presents were given to the attendees of the performances.

For one-hundreth performance, patrons received small metal jewelry boxes.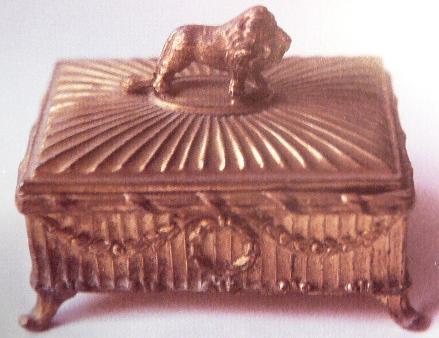 For 125th performance members of the audience received a book titled "The pictures from the Wonderful Wizard of Oz."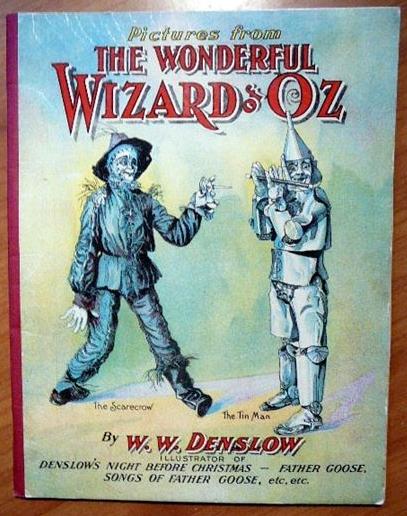 For two-hundreth performance Majestic Theater dispensed collapsible metal cups to honor the occasion.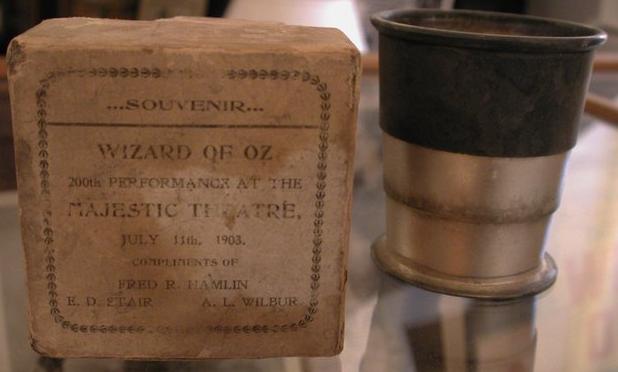 These three items are highly collectible and were produced in limited quantities (only to correspond to the number of people in the audience for the single performance). Interested to learn more or obtain these commemorative pieces


July, 1929 Oz poster by American Seating Company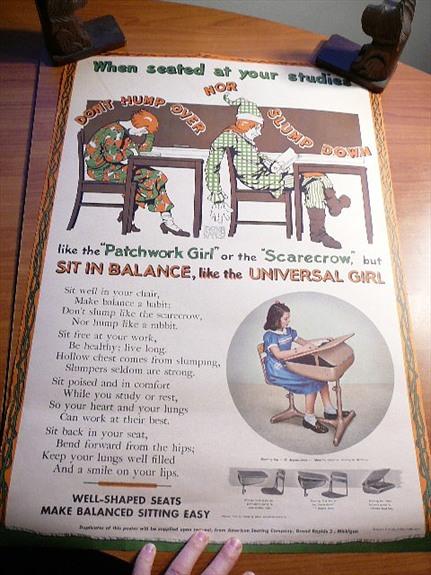 This poster appears on page 175 of the Wizard of Oz Collectors' Treasury. This was one of the earliest Oz product endorsements. Perhaps to appeal to educators and school children, an attempt was made to "humanize" the popular Scarecrow and Patchwork Girl characters - in spite of their familiarity and the fact that similar advertisements featured the traditional book characters. Interested to learn more or obtain this poster


---


Conclusion: The Wizard Of Oz Is Facebook's Most Explosive Page


Some of you have heard me say over and over again that investing in collectibles is probably one of the best and safe avenues in this economy. To invest in the Wizard of Oz collectibles makes even more sense since the Wizard of Oz memorabilia is on the list of top ten most wanted collector's items in US. Moreover, based on The Wizard Of Oz Is Facebook's Most Explosive Page the interest in the Oz subject matter continues to grow daily.


Please support Wizard of Oz by clicking