Beware of Fraud When Buying Oz books On-Line!
Many people enjoy shopping online where one may find a myriad of collectible books at seemingly good prices. In addition, you can't beat the convenience of on-line shopping that enables you to look for collectible books sitting in your slippers rather than spending gas and time going from store to store.
People also prefer on-line shopping because it is fun and allows you to be in the midst of "live action." This is true, for example, for a live on-line auction that can take several days to complete. Many enjoy watching the bidding activity that they see on their own PC screens, and enjoy the "rush" of last-minute bidding on that Oz book that they absolutely have to have. Some are so much into on-line auctions that they make it a point to familiarize themselves with the strategies to use in order to win an online auction.
There are also online websites that allow an interested party to buy an item that may capture his or her interest. This is where most book collectors purchase their desired books. By searching and finding the book that they want, they can actually negotiate and make the payments through the Internet. This can be very risky because you, as a buyer, do not know much about the dealer/seller who is selling you that book. Yet, many people are still conducting business and making payments through these types of online transactions, often with very sad results, if the seller of the book is dishonest.
Unfortunately, fraud is a common occurrence in on-line transactions, particularly those that involve items of substantial value. Since some of the collectible Wizard of Oz books are approaching high market prices, they begin to attract interest of those who attempt to perpetrate fraud on innocent buyers. I wanted to bring to my readers' attention some of the examples that I witnessed myself in the last several years hoping to help my readers save money and avoid disappointment.
Fraud on Ebay
A few months ago I noticed an interesting listing in which the seller allegedly was selling the first edition copy of "Ozma of Oz". I read the description and evaluated the photo depicting the book. It was obvious from the description provided that the seller was familiar with the book's identification points that are referenced in Bibliographia Oziana. The photo of the book also looked great and clearly indicated one of the most important points of the book, publisher's name of "Reilly& Britton CO.", on the bottom of the spine (It should be noted that all later stated copies omitted "CO" in the publisher's name.) To me the value of the book was clear without asking any additional questions.
I eventually won the book at the Ebay auction and was "patiently" waiting for its book arrival. The day finally arrived; however, when I opened the package, I noticed to my greatest surprise (and horror) that this is NOT the same book that I purchased! Yes, it had the same design cover, but it was a later, much less valuable, edition of the same title. My communications with the seller did not yield any positive results, as he was completely unresponsive. It was obviously a fraudulent transaction, and I was quite saddened at all the funds that I spent and was not going to be able to recoup. By sheer chance I found on-line the book dealer that listed the same book with photo on his website. By providing this information to Ebay, I was able to recapture funds from the seller.
Another fraudulent transaction that I encountered on Ebay was when another seller attempted to list MY Oz books as his on Ebay! Ebay sales constitute usually a very small percentage of my sales, and I mainly use Ebay for marketing purposes and for educating public about Oz books. Imagine my surprise when one day, I noticed that one of my sets that I still have at home, was listed on Ebay by some one else as his own. It was obvious to me that those were my books, since I immediately recognized my own rounded wooden table that I often use to take photos. Even a few of my long-time clients sent me direct emails asking if I was selling books under the different ID number!
When I contacted the Ebay trying to explain the situation to them, they emphatically told me that they could not remove the listing. As a result, I had no choice but to watch my books being listed and to realize that an innocent bidder will eventually be taken advantage of (It should be noted that since Ebay removed the option for buyers to see other buyers' ID I could not inform a potential buyer of what was going on). The only way that I knew how to prevent fraud in this instance was for me to bid on my own books and then, as power seller, upon completion of the auction, to learn the ID of the winner. In the end, after many hours and e-mails, I was able to warn the Ebay buyer about this fraudulent transaction and earned myself a loyal customer.
Bookstores / Ebay
"Abebooks" (Advanced Book Exchange) is a website where over 15,000 antique book dealers list over 110 million books. Abebooks is another place where I encountered a fraudulent listing. One day while browsing at Abebooks, I noticed a new copy of the Wonderful Wizard of Oz. It was listed by the bookseller from Spain. Upon detailed evaluation of the book cover, I became convinced that this is one of my books that I still have in my inventory, with only thing being different that the alleged seller performed some simple image manipulations and combined multiple shots into one image. He listed my book for double the price that I was selling on my website! (I must note that at any given time there is less than a dozen of first editions of the Wonderful Wizard of Oz listed worldwide online through Abebooks, so it is very easy to spot any new copies)
With the cooperation of one of my friends who acted as a "buyer", we gathered enough evidence that we presented to Abebooks to ban the listing and the seller which they promised to consider. Meanwhile, the seller kept marching on and showed up a few weeks later on Ebay with the Abebooks still listing "his" book. At the time of this writing he still lists in both sources, Ebay and Abebooks. Below is the image of his current listings: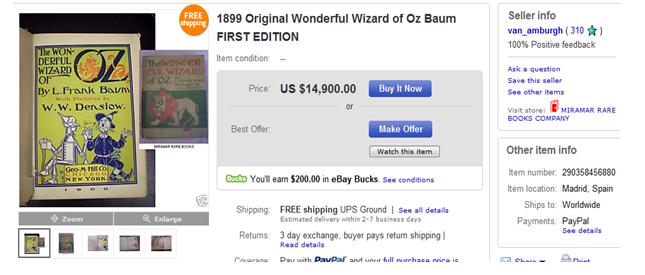 ---
on ABEBOOKS

Some might insist that above seller has done nothing wrong. "This is just a new type of book-search service", they argue, "The dealer whose catalog entry was stolen is getting free advertising." But that is not true. Someone like the seller above and others like him are selling things they don't own and don't have a right to sell.
Other Scams To be Aware Of/You Would Not Believe What Some People Do!
One day I received a phone call from a potential seller indicating that he inherited many Oz books that he would like to sell. The seller indicated that he is located in Cameroon, Africa and that the books used to belong to his grandfather.
I am always conscious of communication costs that both sellers and buyers who are transacting business with me may incur, and always try to find the most cost –effective alternative. As a result, I offered this individual to communicate via instant messenger and e-mail in order to avoid high international calling costs. Before getting into much detail, however, I asked the individual to take few photos of Wonderful Wizard of Oz and some other books that he had and e- mail them to me. A few days later I received this photo: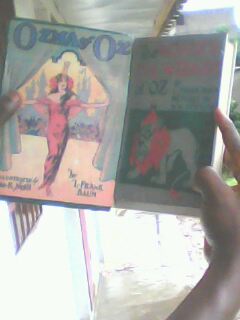 The seller indicated that he does not have a camera to take additional photos and that it cost him $4 to send me the single picture above. Through the Instant Messenger the seller further indicated that he has approximately 30 first edition Oz books that he inherited from his grandfather who was originally from US and after the WWII ended up in Cameroon. I was still suspicious of the multitude of first edition Oz books that the seller claimed to have had and asked him to read me the first sentence from the specific page of Marvelous Land of Oz and within in few seconds I was provided a correct response.
I decided to "bite the bullet" and purchase the books; nevertheless, I wanted to inspect them first. However, the seller was asking for some type of down payment before he can mail books to me in the US. Upon my quick research I discovered that the shipping costs alone for one book from Cameroon might be close to $200. Considering that the average annual salary in Cameroon is approximately $600, I could not expect the seller to spend one-third of his annual salary to mail one book to the US.
I contacted a different shipping agency and learned that I can prepay shipping costs through DHL using a credit card. Upon agreeing with the seller that he will ship only one book through DHL, the seller still insisted on getting some funds as "good faith deposit" of my intent to buy the books. We agreed that I would send him the money through the Western Union in the amount $10 prior of him mailing a book.
After $10 check and another $10 in fees, and a week later, the seller finally contacted me telling me that he has family problems and needs additional funds for medical expenses. I did not like where this was going and refused to send additional funds. The seller disappeared and would not respond to my communications.
Two months later the seller's consciousness was apparently bothering him and he contacted me to let me know that he does NOT have any books, and that it was all a scam to get money out of me. Before blocking the seller from my communication channels, I decided to ask him about himself and to inquire why he zeroed in on Oz books. I learned that the scammer is 23 years old. He found me and my website through the "Book Wanted" ads in Kijiji (Ebay's Craigslist). Upon his research this scammer learned that the Oz books might be worth thousands of dollars and are great "candidates" for scams.
When I asked the scammer about the photo he provided, he indicated that he used the Microsoft product to manipulate image in order to create three - dimensional view of the book with some unique background. As far as quoting the text that I requested, the scammer indicated that he used information available as a result of the Project Gutenberg which made the text of the books available online free of charge.
I wish that the scammer used what appears to be a considerable resourcefulness and engaged in honest transactions. While that is unlikely to occur from my communications with him, he did provide an impetus for me to write this article and warn other of his and other's fraudulent activities related to Oz books.
But you have to have it! I already sold it on eBay!
Fraud can happen to anyone, especially to those who are interested in purchasing collectible books online. It is always important to be informed and knowledgeable about the possibilities of encountering fraud. If something appears too good to be true, chances are, it is, and I urge you to stay away from it. Whether buying or selling, especially in the field of collectible books, deal with some one you know and trust. Otherwise, you may find yourself dealing with someone who exclaimed after hearing that I no longer have a certain Oz book: "But you have to have it! I already sold it on eBay!"


Return from this The Wizard of Oz fraud article page to Oz Newsletter page