Books Reference Publications for the Wizard of Oz Collectors
The expression "Purchase books reference publications before purchasing your first collectible" truly applies to Wizard of Oz collectibles. Putting together a collection of the Wizard of Oz books is a lot of fun and there are many different ways to go about it. However, no matter which path you choose to assemble your collection, there are a few important factors to keep in mind.
There are various reasons why people collect Oz books. Some collect mostly because of John R. Neill's illustrations. The magic of color and line transports us into our own version of the world, in the same way that Frank Baum (and Ruth Thompson) did by the magic spell of their words. Illustrations can make or break the children's book. Others, because it is favorite book from a childhood. And others for investment and enjoyment.
However, Oz—being a favorite book series—has its disadvantages from the strict collector's point of view. As a result, the collector of Oz books has a much harder job even as an adult "modern first" collector finding that "mint" fresh copy if the book itself has been popular with "real" children.
Content is probably what we want in the first instance, though if a copy in better condition turns up later we wouldn't refuse it. Sometimes there is little or no choice in what is available!
Out of all factors that affect your decision in collecting Oz books—such as condition, price, rarity, color illustration, etc.—the edition you choose is one of the most important factors. For the long-term, the first editions—barring damage—will probably hold their value better than reprints. However, the first editions will also require a more substantial initial investment.
One thing that I always tell my clients is the importance of good reference materials. For many Oz books the determination of edition is tricky and is not always clear. As a result, it is important to consult reference sources for guidance. Some of these reference materials are bibliographic in nature while others also give price ranges depending on the condition and edition.
These are a few that I would recommend:
For general children's books, including a couple of pages with prices of Oz Books (prices are circa 1994/1995): E. Lee Baumgarten's Price Guide and Bibliographical Checklist for Children's and Illustrated Books (1880 - 1960)
For general Wizard of Oz collections that cover books, poster, etc.: The Oz Scrapbook and The Wizard of Oz Collector's Treasury.
For collectors of 1st editions of Oz books series: Bibliographia Oziana, The Schiller Collection - 1978 Swann Galleries Catalog, Books of Wonder Catalogs, Fred Meyer Catalog, Baum Bugle Publications, Wizard of Oz Price Guide.
These are your basics in a nutshell. So start collecting, have fun and enjoy!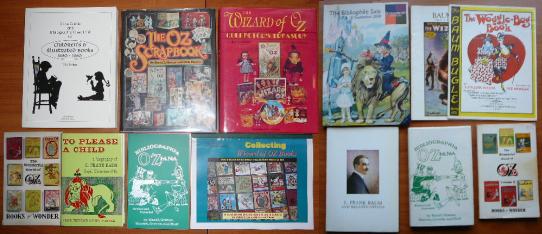 1.Books reference - Price Guide and Bibliographical Checklist for Children's & Illustrated Books 1880 - 1960
This guide was compiled by E. Lee Baumgarten and covers over 4700 titles. However, it covers a whole variety of children's books and has only a few pages dedicated to the Wizard of Oz books series. This guide provides two types of search mechanisms: one by the author and another one by the illustrator. As a result, if a collector wants to find other books illustrated, for example, by John R. Neill outside of the Oz series, he or she can easily identify them.

2.Books reference - The Oz Scrapbook

This is a good reference for the whole Oz phenomenon, from Baum to later authors, from books to stage plays and films.
The book opens with a description of L. Frank Baum himself; biographical details, his history of books, the writing of the 14 Oz books, his relations with illustrators, and his involvement with stage plays and films based on Oz.
The second chapter describes the ongoing Oz phenomenon taken over by Ruth Plumly Thompson and some later Oz authors, and includes pictures of the dust jackets of some of these books as well as many other illustrations.
The third chapter deals specifically with John R. Neill. There are also samples of illustrations from foreign language translations and adaptations of the Oz series.
Chapter 4 documents Oz on stage and on screen, starting with Baum's earliest stage plays, his later attempts with the Oz on stage and in film, later cartoon adaptations, the 1939 MGM movie, up to The Wiz of 1975.
The last short chapter has some Oz - related pages and 16 unnumbered pages of color plates.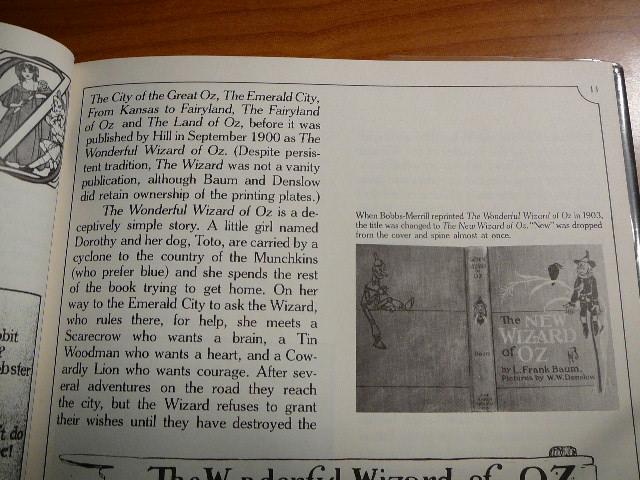 3.Books reference - The Wizard of Oz Collector's Treasury
This book is a true treasure for any Wizard of Oz collector. It is full of pictures, facts, and trivia.
While this book is very helpful to any Oz collector, please keep in mind its year (1992) for the price reference purposes.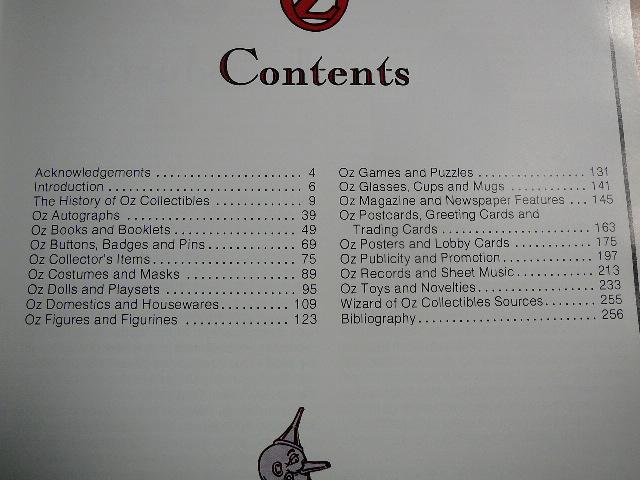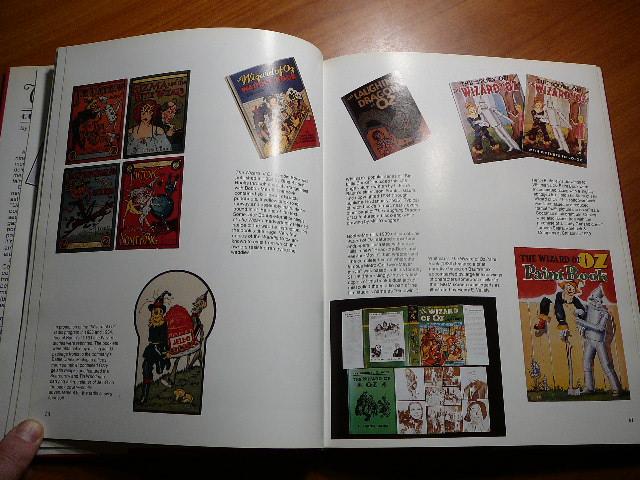 4. Books reference - The Schiller Collection - Swann Galleries - 1978

Oz market took off in the '70s with the sale of an important collection amassed by Justin Schiller, who was only 13 when he founded The International Wizard of Oz Club in 1957 with Fred Meyer's help.
In the photo below you can see an example of the sale of the book titled "The Master Key". This should give you an idea of the type of information you will find in this catalog.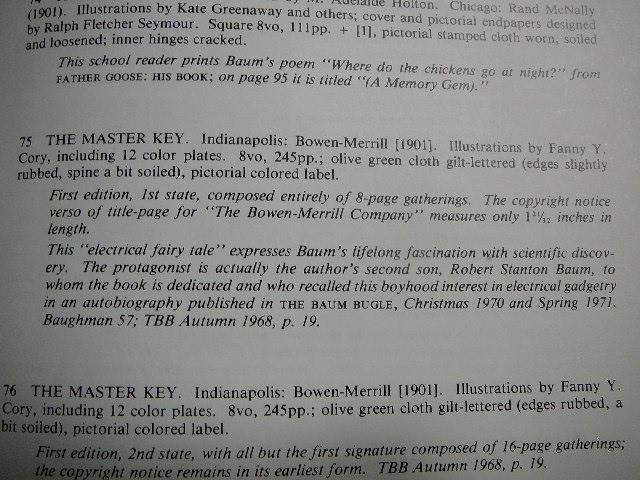 5. Books reference - Bibliographia Oziana

If you are in the process of collecting first edition Oz books, then you will need a copy of Bibliographia Oziana. However, in my opinion it is not always easy, especially for a novice, to follow it, but is is a great reference tool (provided you have a copy of the book that you are evaluating in your hands).
Below I took a photo of the page that describes "Glinda of Oz" for your evaluation.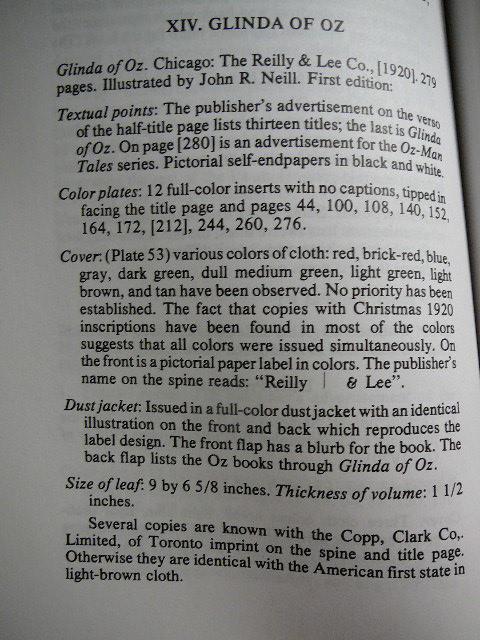 6.Books reference - Various Baum Bugle Publications

For 50 years the International Wizard of Oz Club has been publishing a quarterly magazine "Baum Bugle". In many issues a reader can find a particular section that covers a specific book by Frank Baum, Ruth Thompson, etc.
Format of books matches the format of books referenced in Bibliographia Oziana. Some well-known titles covered in the past publications include "Father Goose His Book", "Aunt Jane's Nieces" series, "By Candelabra's Glare", and others.
Below is a page from one issue for your review.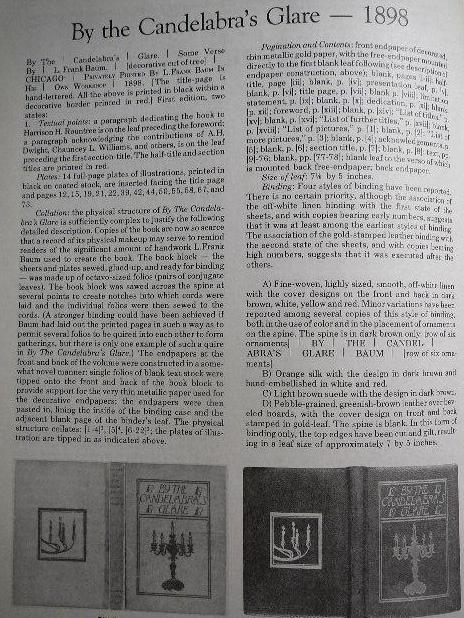 7.Books reference - Bloomsbury Auction - Fred Meyer's Collection Catalog

Bloomsbury auction's catalog from September 2008 featuring Fred Meyer's collection is a good reference tool. It lists over 240 various Oz books and related memorabilia. First 90 pages of the catalog cover Fred Meyer's collectibles with an average of three to four items per page. Most collectibles are described and there are color photos of items. Prices realized from the auction are also available on a separate page.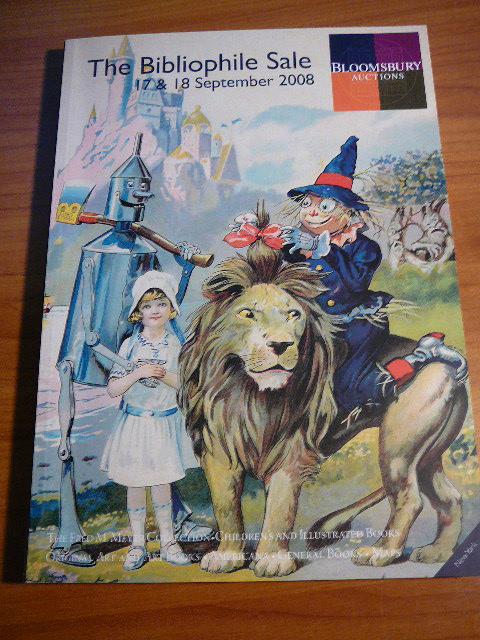 8.Books reference - Various Catalogs from Books of Wonder

In 1980s and early 90s due to the emergence of the world wide web many book sellers were producing catalogs of their available books and sending them to potential buyers. A New York bookstore known as the "Books of Wonder" specialized at that time in rare and collectible Wizard of Oz books. They produced various catalogs over the years with descriptions, photos and prices for Oz books (the catalog that I examined contained 375 collectible oziana items!).
In the image below you can see a subset of a page listing a copy of the first edition, second state copy of the Wonderful Wizard of Oz available for sale for $1,850 in 1985.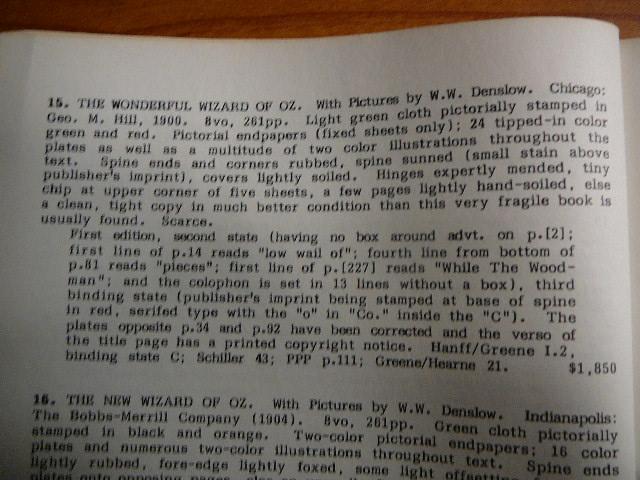 9. Book reference - To Please a Child - A Biography of L. Frank Baum

"To Please a Child: A Biography of L. Frank Baum", Royal Historian of Oz (1961) is written by Baum's son Frank J. Baum and Russell P. MacFall. This remains the prime source of information on Baum.I found some interesting statistics in this book related to how many books were published by Reilly & Britton. Based on what I remember, in 1918 they published approximately 18,000 copies of "Tin Woodman of Oz" (1st edition) and less than 1,500 copies of other previous Oz titles!
Below you will find a page from the book indicating how many copies of first edition copies of the Wonderful Wizard of Oz were printed by Geo M. Hill Co.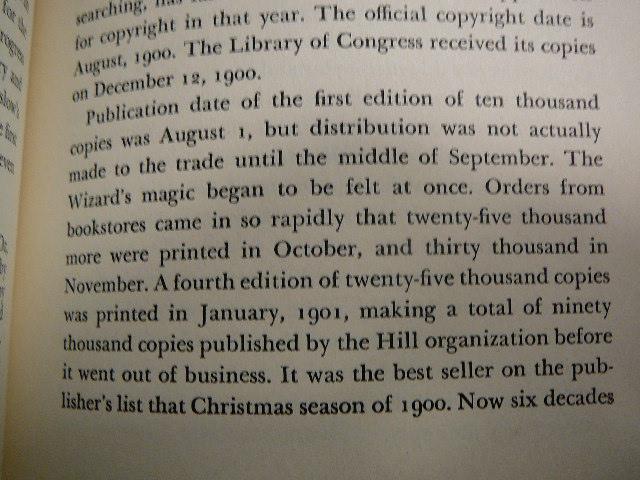 10.Book reference - The Wizard of Oz Books Collector's Price Guide

This Price Guide has up-to-date prices on almost all collectible Wizard of Oz series books and serves as the most useful tool whether you are interested in buying or selling!
The Guide encompasses the prices of all Famous Forty Oz books from first to later editions and covers over 160 different variations of the same 40 Oz titles.

Additional Information About the Oz Books' Price Guide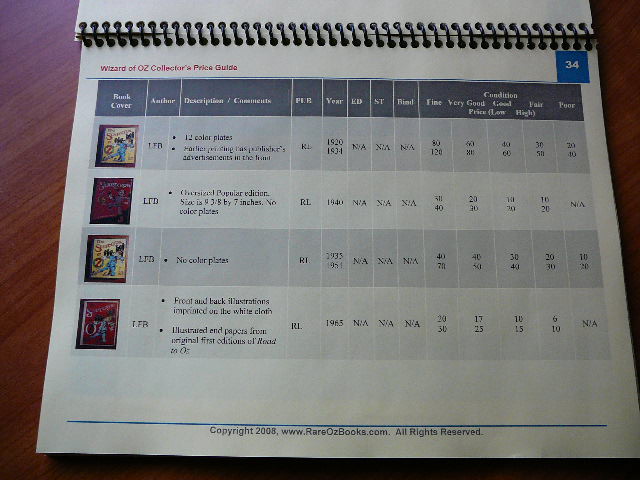 Return from this Oz Books reference article page to Oz Newsletter page

Return from this Oz Book reference article page to Wizard of Oz books home page