Wizard of Oz Gifts Ideas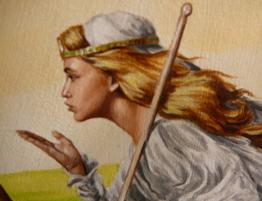 Featured here is a great variety of the Wizard of Oz Gifts and Collectibles that will delight many Wizard of Oz fans and cherished for years by your Oz enthusiast.
Below you will find different categories and in different price ranges for varios Oz collectibles. Just in time for the holidays!

Wizard of Oz Collectibles Autographs

For a truly unique gift, consider the Wizard of Oz autograph memorabilia. This is a list of currently available autographed letters or stand-alone signatures of authors, illustrators and other collaborators associated with Oz: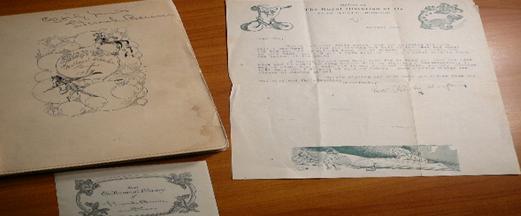 L.Frank Baum, W.W. Denslow, John R. Neill, Ruth Thompson, Fred Stone, Judy Garland, Frank Morgan, Jack Haley, Bert Lahr, Ray Bolger, Margaret Hamilton, Billie Burke, etc.


Wizard of Oz Collectibles Books, Booklets and Pop-up Books

A book remains an ideal choice for holiday giving. Happily, there are a number of splendid edition to choose from, many of them superb examples of what some unenlightened souls consider to be a declining species—books noteworthy not just for the pretty pictures, but most assuredly for the thoughtful texts as well. Depending on your budget, you can purchase the Wizard of Oz collectibles books anywhere from a few dollars to several hundred dollars. Books can be purchased either individually or as a set, with or without a dust jacket, first or later edition, etc.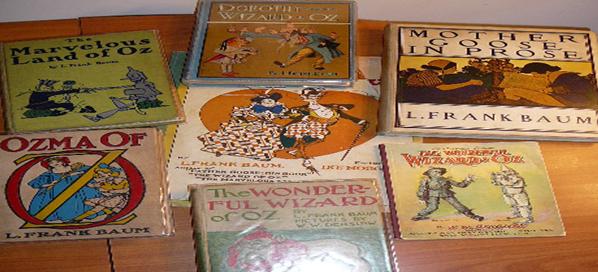 Wizard of Oz Collectibles Artwork and Drawings

More for a serious collector, wizard of Oz gifts in this category include drawings by original illustrators of Oz such as John Neill, Dick Martin and Michael Herring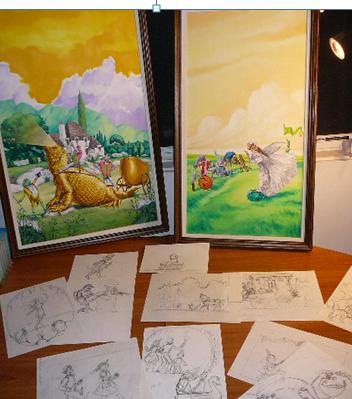 Wizard of Oz Collectible Buttons, Badges and Pins

These unique wizard of Oz gifts were usually distributed strictly as a promotional material to fans by newspapers, theme parks, movie theaters and studios, and printing companies. As such, they are quite rare and hard to find.


This category features such distinctive items as hand-painted porcelain music jewelry boxes, figurines, collectors' plates, Christmas ornaments, stamps, and crystal and musical sculptures.


As a general rule, masks and costumes make great wizard of oz gifts for someone who collects toys. The earliest Wizard of Oz masks can be traced back to the 1939 movie. They were produced exclusively by Loew's company and were offered for display or promotions.


Although some Oz dolls were produced as early as 1920s, they are extremely hard to find. However, there is still a limited availability of the Wizard of Oz collectible dolls that go back to 1960s, and a fairly recent 22-inch-tall doll from Franklin Mint.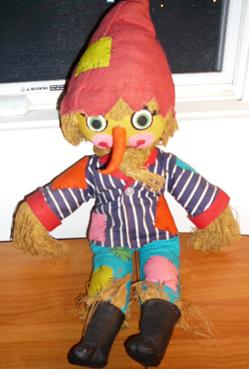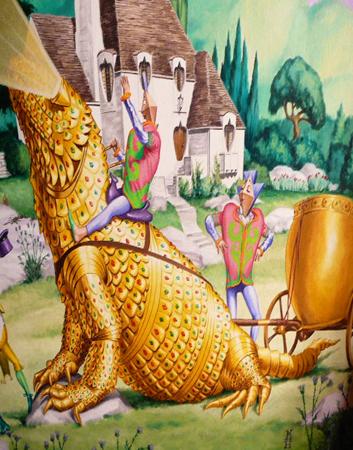 Looking for that unusual but inexpensive gift for the hostess or the man of the house? How about the Wizard of OZ carpet sweeper, wooden hangers, Wizard of Oz scarves, handbags, containers, pillows, bandage strips, wallpaper, party goods, calendars, belts, lunch kits, magnets,clocks, etc.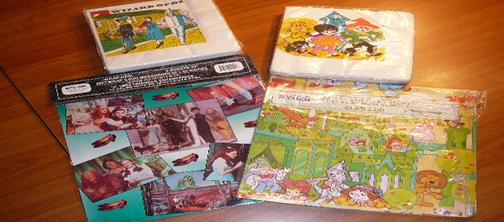 There is a number of porcelain, pewter and ceramic Wizard of Oz figurines that your Wizard of Oz fan will proudly display. There is even a sculpture with Oz characters! Franklin Mint produced high-quality miniature OZ characters to be stored in a special wooden display case.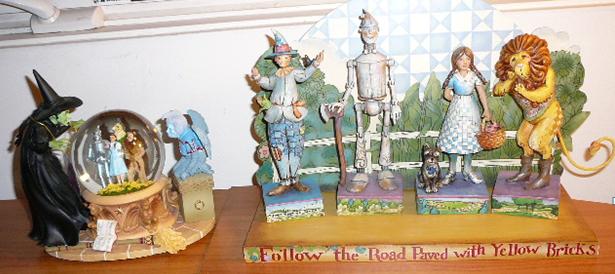 One of the earliest Wizard of Oz games was produced by Parker Brothers in 1921. In 1939, Whitmans company produced the Wizard of Oz game that was sold at that time in "Five-and-Dime" stores. In 1940 the Wizard of Oz Game was produced by Castell Brothers Ltd. of London. Finally, in 1957 E.E Fairchilds produced another edition of The Wonderful Wizard of Oz game.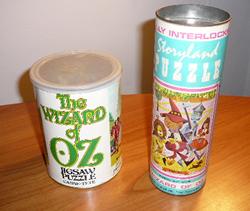 Wouldn't it be fun to have his or her favorite drink in a unique Wizard of Oz glass? How about a cup of coffee or tea in the Wizard of Oz mug? Here you can find these whimsical Wizard of Oz gifts that are dated back to the 1939 movie as well as a number of various Wizard of Oz mugs.

How about the Wizard of Oz newspaper advertisements that date back to early 1900s? There are also comic strips illustrated by W.W.Denslow, newspaper clippings advertising Oz shows and various announcements of Judy Garland's appearances in magazines.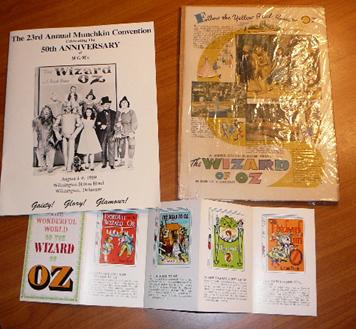 Oz Postcards, Greeting Cards and Trading Cards

How about that teenager on your list who loves trading cards? Give him or her something that they will not be able to find at any sports card show - the Wizard of Oz trading and post cards. An unusual wizard of Oz gift in itself, it might also be that little "hook" that will stir or amplify his or her interest in reading!


Although some Oz-related posters were produced in 1920s, the majority of collectible posters were produced with association of 1939 MGM movie. Quite valuable, the posters from 1939 are selling these days for over $15,000, and even reprints from '40s and '50 can fetch a few thousand dollars.Some poster are issued in French, Spanish and other languages.
The famous lobby cards, which are miniature posters unto themselves, measure 11"x14" and were used during the initial release of the movie in 1939. Lobby cards from 1939 fetch several thousand dollars each, but later reprints from 1949 and 1955 can be obtained for under $1000.
The Wizard of Oz gifts in this particular category are mostly for very serious collectors as they are very rare and quite valuable.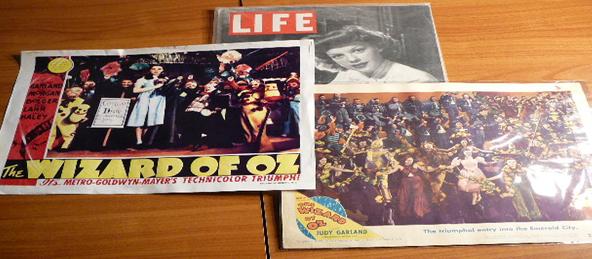 Follow the Yellow Brick Road on the "Land of Oz" map that was initially printed as one of the endpapers for the "Tik-Tok of Oz", but in 1920 served as a promotional giveaway by the publisher. For the Fiftieth Anniversary Edition, MGM produced inflatable balloons available for in-store display. Eye-catching and colorful, it will surely be a topic of live conversation!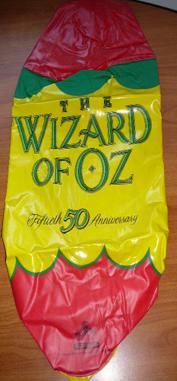 The Scarecrow is the first song in the 1903 Musical Extravaganza "The Wizard of Oz" that is truly "Ozzy" (Music by Paul Tietjens; words by L. Frank Baum). In it our favorite hay-stuffed personage introduces himself to Dorothy and the world for the first time. The role of the Scarecrow was created by Fred A. Stone whose raspy voice and seemingly boneless body were virtually made for this song. This is a February 1, 1903, Sunday newspaper supplement depicting Mr. Stone in this unforgettable role.
The 1939 MGM movie released a number of various songs sheet that would bring joy to your music Wizard of Oz fan. Also here you can find a number of vinyl records that are dated back to 1905.

How about wizard of oz gifts for the little ones? Items in this category include everything from charm bracelets to Oz paint-by-number projects to watches to puppets to plastic figures and many-many others. Check it out - you will not be disappointed!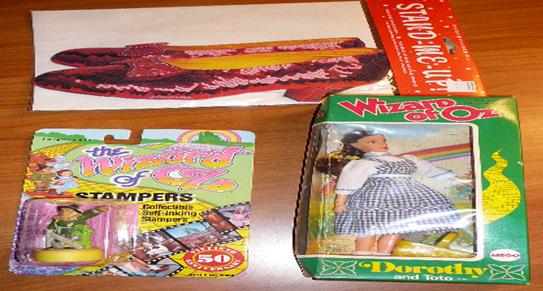 Return to Wizard of Oz books home page