Are you wondering how collectible childrens books are compared to other collectibles?
Reasons for Collecting
What is so special about collectible childrens books? Each person has his or her distinct reasons.Some people think that collectible childrens books are a good investment that will appreciate with time. Some look at it as a good hobby in their spare time. Some may have inherited books from their grandparents and wanted to learn more about the books' history and value.
Others want to read them to their children and grandchildren and have the books for youngsters to cherish for years to come. Finally, some have had a certain rare book in mind for a number of years and look for an opportunity to finally obtain it. Whatever the reason may be, collecting children's series books brings joy to hundreds of people of all ages.
Collectible Childrens Books History and Values
Book collecting is probably on the top of the list of things that people typically collect. Some homeowners are even fortunate enough to have a library room dedicated for that purpose. Since building a library of books constitutes a reasonable approach to collecting, many people are building books of specific subject of interest.
There are some collectors who collect a variety of different collectible childrens books and there are some that collect a specific series or authors. From the perspective of cost, both the scarcity and popularity of a particular series or a particular author seem to affect the value of the books.
I recently browsed through the 1996 Price Guide of 10,405 Children and Illustrated Books published from 1880 to 1960 that was compiled by E. Lee Bumgathen and this is what I noticed:
In general, over 98% of the prices represented in the Guide are in two digits and only the remaining 2% are over valued at $100 and more (please keep in mind that the Guide is 12 years old). The collectible childrens books series that fall into that 2% category are mostly books by Beatrix Potter, Edgar Allan Poe, Ruth Thompson, Mark Twain, Frank Baum, etc. Below are the ranges for books by these authors identified in the Guide:
Beatrix Potter– Average books are from $300 - $500 with highest being between $600 - $800
Edgar Allan Poe– Average books are from $100 - $200 with highest being between $450 - $600
Ruth Thompson – Average books are from $150 - $300 with highest being between $350 - $500
Mark Twain – Average books are from $100 - $200 with highest being between $375 - $450
Frank Baum – Average books are from $350 - $600 with highest being between $5000 - $7000
Then and Now
After seeing the above figures many collectors want to concentrate on books by Frank Baum. There so much more to Oz books' ownership than simply knowing if a book is priced at $100,000, $6,000, or $575 - or, for that matter, $10.
While certainly popular, a book investment was and still remains to be for many a side benefit to collecting. For many collectors, especially years ago, forming a meaningful collection was the most important aspect with investment benefits coming naturally.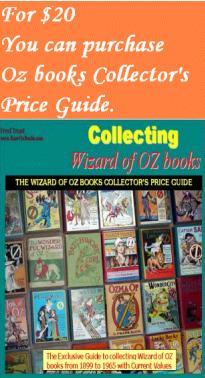 A few decades ago, the average Oz books collector would eagerly search through the "for sale" section of Baum Bugle magazine published by the International Wizard of Oz Club in hopes of obtaining a rare Oz book. People would go to local antique stores or seek them out at yard sales and flea markets, etc.
The prices varied greatly and the lack of available information of Oz books pricing information added even more confusion.
Oz books obtained a few decades ago, have much higher prices in todays market.
Because of computer technology and access to information, collectors are more informed. My guide, Oz Books Collectors Price Guide will help collectors in pricing Oz books.
Various collectors buy collectible childrens books strictly for investment purposes. However, one has to be very careful about what they are getting for their money because lack of knowledge and desire to learn may bring about some unfortunate results.
For example, there was a recent sale (June, 2008) of a lot of 32 Oz books. It was appraised between $8,000 – $12,000 and was sold for $6600 (including commissions).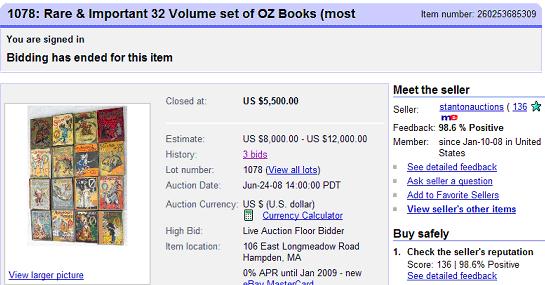 This particular set of 32 books contains only a few true 1st edition books, and as such its value would not exceed $1000.
I advise my customers to purchase Bibliographia Oziana so that they can avoid the pitfalls of disappointment. The Wizard of Oz Collectors' Price Guide that I created and plan to update on a yearly basis, will surely help collectors in making sure they are up to date on Oz books pricing.
Benefits of Collectible Oz Books Series versus Other Collectibles
Mark, a well known collector has collected it all from juke boxes and vintage newspaper articles to books, phonographs, thousands of records to posters, autographs from famous people, comics, and memorabilia, etc.
He has collected vintage items of all kinds throughout his entire life. The collection covers his entire house, including the walls in a two- story home in California.
Mark stated it became obvious to him that out of all different items that he collected, the most pleasure and satisfaction he gained has been from collecting L. Frank Baum collectible children books. Since Mark has no kids, but does have 12 complete 1st editions' sets of Oz books, he feels that to him it s like having 12 children! Although Mark is knowledgeable in many other areas, he can spend hours passionately talking about Oz books.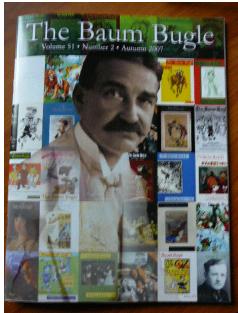 The L. Frank Baum books that Mark has purchased have gone up dramatically in value, as much as ten times as originally purchased for, while in the other areas of collectible items have stabilized with the economy.
Mark's collection of various items has been written up in various magazines and newspapers throughout the country and he stated to me that the "L. Frank Baum books are by far the best collectable and investment he has ever made in the world of collecting".
LESSONS TO LEARN : Collectible childrens books
1.Spend time learning about collectible childrens books.
2. Ask questions.
3. Read about books.
4. Study the subject area.
5. The more you know, the better collector and investor you will be.
It is fun, profitable, and it will brings hours of joy and satisfaction!!!
---

Return from this Collectible childrens books article page to Oz Newsletter page

Return from this Children books newsletter page page to Wizard of Oz books home page