Emerald City of Oz by L.Frank Baum (c.1910)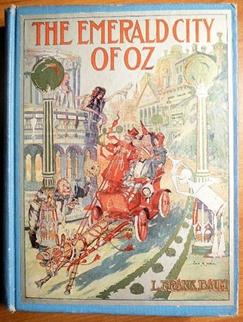 Synopsis for Emerald City of Oz
This new adventure into the fairylands of Oz is witness to the impending destruction of the Emerald City. The evil Nome King is determined to recover the Magic Belt from Ozma, and to aid in this terrible scheme he enlists a number of very powerful and frightening creatures. Their aim is to tunnel under the Deadly Desert and emerge in the unsuspecting Emerald City and lay waste to it and the Lands of Oz. Meanwhile, Dorothy and her Uncle Henry and Aunt Em move to the Emerald City to live after life turns too hard in Kansas. They go on a grand tour of Oz, visiting many amusing and entertaining lands and their people. They arrive back at the Emerald City just in time for the final assault by the invading armies, and witness a surprise ending that can only happen in the Land of Oz.

To veiw and read a full text of this title

Slide show of over 30 original images

Color plates position for 1st edition, 1st state copy (1-indicates opposite of the title page and also given page).


1910 - The Emerald City of Oz - 16 plates(1,24,54,74,108,116,136,166,186,222,232,240,258,264,282,292).



Please check the Inventory of Emerald City of Oz in my store.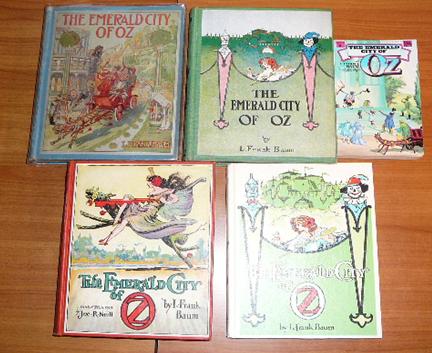 ---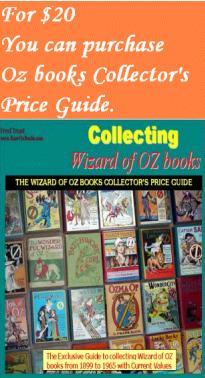 If you are interested in finding prices of collectible Oz books, including Ozma of Oz, please consider purchasing the Price Guide.

This Price Guide has up-to-date prices on almost all collectible Wizard of Oz series books and serves as the most useful tool whether you are interested in buying or selling!
The Guide covers the prices of all Famous Forty Oz books from first to later editions covering over 160 different variations of the same 40 Oz titles.
It not only provides the range of prices depending on the book grading level (Fine, Very Good, Good, Fair and Poor), but also includes in the easy-to-follow table format photos of the front covers, bullets related to each title, position of color plates, edition, and printing years.


Past sales of Emerald City of Oz

I encourage you to compare my copies of Wizard of Oz to various other sources, such as Ebay or Amazon. I am so confident in my books and prices at which I offer them that you will undoubtedly choose my books, assuming the same edition and book condition.
---