Glinda of Oz by L.Frank Baum (c.1920)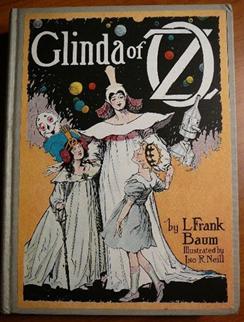 Synopsis for Glinda of Oz
As this last Oz story from L. Frank Baum opens, Dorothy Gale and Ozma have been dispatched by Glinda on a peacekeeping mission. It appears that war is imminent between two of the Oz peoples; the Flatheads and the Skeeters. The Flatheads (so named because the upper portion of their heads are missing leaving their brains subject to loss), live in a mountain top citadel and are led by the despotic Su-dic, who is preparing to attack the Skeezers. The Skeezers are led by a domineering young queen, who has a dark secret. After successfully dealing with a number of challenges as they penetrate to the far corner of Oz where these two groups live an isolated existence, Dorothy and Ozma discover that the Skeezers live in a glass-domed city in the center of Magic Lake. For added defensive measure, the island and its city can be lowered into the lake until it is completely submerged. Dorothy and Ozma soon learn that the two strong-willed leaders are not to be dissuaded from war, and that intervention will be needed to avoid a disaster for the people. So Ozma returns to the Emerald City, obtains consent from a Council of State of the leading personages of Oz, and launches an expeditionary force to intervene between the Skeezers and Flatheads. But before they can arrive, Dorothy discovers the real secret of why the two leaders are carrying their people into war, and obtains help from a young Skeezer boy, Euric, to correct the situation. But first she must discover the magic to escape from the submerged city and foil the initial attack by Su-dic. Euric proves resolute and courageous on his quest, braving very powerful magic from Reera the Red, a witch who hold the key to success. This enchanting tale keeps the reader engrossed in the mystery surrounding the conflict between these two Oz peoples, and how it will be ultimately resolved in the best of Ozian traditions.

To veiw and read a full text of this title

Slide show of over 30 original images

Color plates position for 1st edition, 1st state copy (1-indicates opposite of the title page and also given page).


1920 - Glinda of Oz - 12 plates(1,44,100,108,140,152,164,172,212,244,260,276).



Please check the Inventory of Glinda of Oz in my store.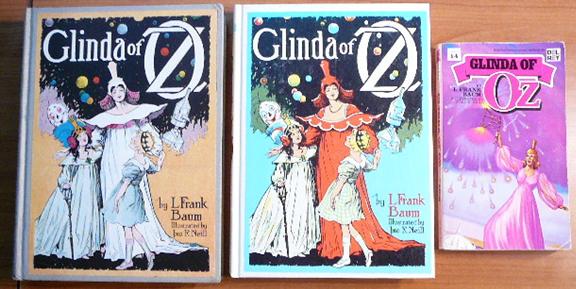 ---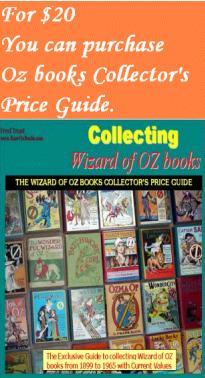 If you are interested in finding prices of collectible Oz books, including Ozma of Oz, please consider purchasing the Price Guide.

This Price Guide has up-to-date prices on almost all collectible Wizard of Oz series books and serves as the most useful tool whether you are interested in buying or selling!
The Guide covers the prices of all Famous Forty Oz books from first to later editions covering over 160 different variations of the same 40 Oz titles.
It not only provides the range of prices depending on the book grading level (Fine, Very Good, Good, Fair and Poor), but also includes in the easy-to-follow table format photos of the front covers, bullets related to each title, position of color plates, edition, and printing years.


Past sales of Glinda of Oz

I encourage you to compare my copies of Wizard of Oz to various other sources, such as Ebay or Amazon. I am so confident in my books and prices at which I offer them that you will undoubtedly choose my books, assuming the same edition and book condition.
---