Marvelous Land of Oz by L.Frank Baum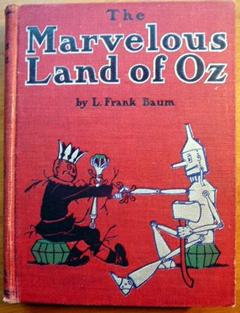 Synopsis for Land of Oz
A little boy, Tip, escapes from his evil guardian, the witch Mombi, with the help of a walking wooden figure with a jack-o'-lantern head named Jack Pumpkinhead (brought to life with the magic Powder of Life Tip stole from Mombi), as well as a living Sawhorse (created from the same powder.) Tip ends up on an adventure with the Scarecrow and Tin Woodsman. Tip finally learns that he is really Princess Ozma, the true ruler of Oz, is changed back into a girl, and ascends the throne of Oz.

To veiw and read a full text of this title

Slide show of over 30 original images

Color plates position for 1st edition, 1st state copy (1-indicates opposite of the title page and also given page).


1904 - The Marvelous Land of Oz - 16 plates(1,10,56,68,78,116,142,162,174,182,204,220,242,254,260,284).



Please check the Inventory of Marvelous Land of Oz in my store.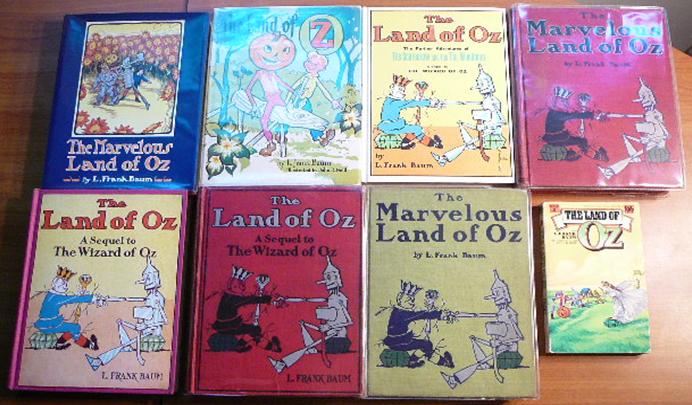 ---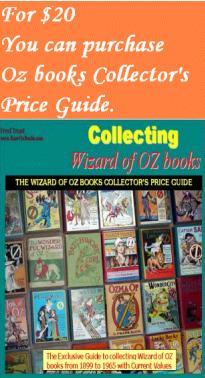 If you are interested in finding prices of collectible Oz books, including Ozma of Oz, please consider purchasing the Price Guide.

This Price Guide has up-to-date prices on almost all collectible Wizard of Oz series books and serves as the most useful tool whether you are interested in buying or selling!
The Guide covers the prices of all Famous Forty Oz books from first to later editions covering over 160 different variations of the same 40 Oz titles.
It not only provides the range of prices depending on the book grading level (Fine, Very Good, Good, Fair and Poor), but also includes in the easy-to-follow table format photos of the front covers, bullets related to each title, position of color plates, edition, and printing years.


Past sales of Marvelous Land of Oz

I encourage you to compare my copies of Wizard of Oz to various other sources, such as Ebay or Amazon. I am so confident in my books and prices at which I offer them that you will undoubtedly choose my books, assuming the same edition and book condition.