Lost Princess of Oz by L.Frank Baum (c.1917)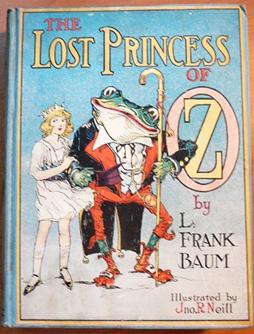 Synopsis for Lost Princess of Oz
The Lost Princess of Oz tells a story of intrigue and mystery in this fairyland home of many famous and charming people and creatures. It begins with the discovery of a great calamity -- all the principal magic of Oz used by Glinda the Good, Ozma, and the Wizard of Oz to aid and protect the Ozites has been stolen; and Ozma herself has inexplicably disappeared. Dorothy and her friends set out on a grand quest to find Ozma and save her from what surely must be a perilous predicament. Meanwhile, in a far corner of Oz, a Yip named Cayke discovers her magic dishpan has been stolen. This terrible state of affairs must be corrected because the dishpan has been in her family since the beginning of time and is needed to bake her famous cookies. Accompanied by a local celebrity, the Frogman, they descend from their mountain homeland to seek out the thief and recover the magical dishpan. After a series of challenging adventures, the two search parties encounter each other and join forces to confront the culprit. This inevitably leads to a number of serious challenges they must face in order to recover the purloined magic and restore peace and harmony to Oz.

To veiw and read a full text of this title

Slide show of over 30 original images

Color plates position for 1st edition, 1st state copy (1-indicates opposite of the title page and also given page).


1917 - The Lost Princess of Oz - 12 plates(1,48,72,104,128,156,200,212,224,256,264,308).



Please check the Inventory of The Lost Princess of Oz in my store.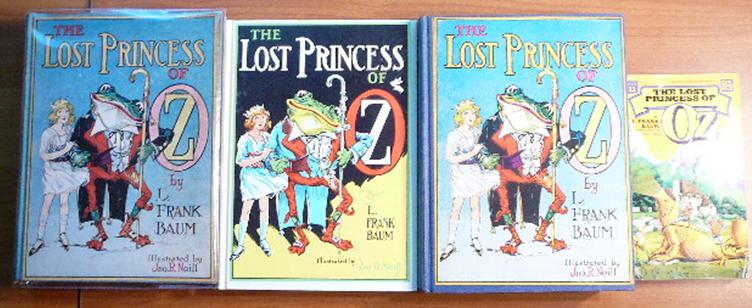 ---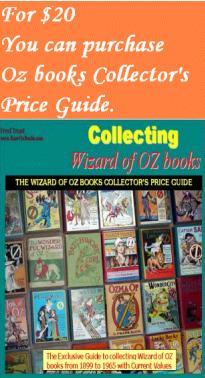 If you are interested in finding prices of collectible Oz books, including Ozma of Oz, please consider purchasing the Price Guide.

This Price Guide has up-to-date prices on almost all collectible Wizard of Oz series books and serves as the most useful tool whether you are interested in buying or selling!
The Guide covers the prices of all Famous Forty Oz books from first to later editions covering over 160 different variations of the same 40 Oz titles.
It not only provides the range of prices depending on the book grading level (Fine, Very Good, Good, Fair and Poor), but also includes in the easy-to-follow table format photos of the front covers, bullets related to each title, position of color plates, edition, and printing years.


Past sales of The Lost Princess of Oz

I encourage you to compare my copies of Wizard of Oz to various other sources, such as Ebay or Amazon. I am so confident in my books and prices at which I offer them that you will undoubtedly choose my books, assuming the same edition and book condition.
---