Ozma of Oz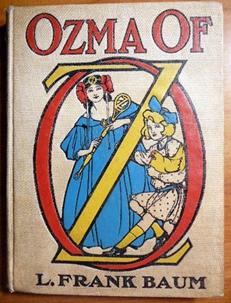 Synopsis for Ozma of Oz

This adventure begins as Dorothy Gale is blown overboard in a storm at sea while enroute to Australia. With her is a yellow hen named Billina. They wash ashore in Ev, a fairyland across the Deadly Desert from Oz. Here they find a mechanical man, Tiktok, and meet Princess Ozma and her friends and the Oz Army. They join Ozma on her quest to free the Queen of Ev and her children from the underground caverns of the Nome King. The Nome King has used his Magic Belt to imprison the royal family of Ev as bric-a-brac in his underground palace. The adventure almost ends in disaster for Ozma and her friends, but Billina saves the day in a most uneggspected way. Dorothy captures the Nome King's Magic Belt, everyone is set free, and they return to the Emerald City for a big victory celebration.

To veiw and read a full text of this title

Slide show of over 30 original images



Please check the Inventory of Ozma of Oz in my store

---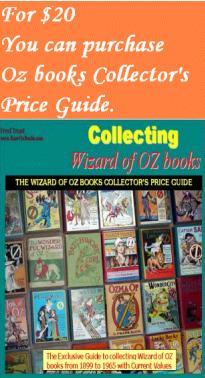 If you are interested in finding prices of collectible Oz books, including Ozma of Oz, please consider purchasing the Price Guide.

This Price Guide has up-to-date prices on almost all collectible Wizard of Oz series books and serves as the most useful tool whether you are interested in buying or selling!
The Guide covers the prices of all Famous Forty Oz books from first to later editions covering over 160 different variations of the same 40 Oz titles.
It not only provides the range of prices depending on the book grading level (Fine, Very Good, Good, Fair and Poor), but also includes in the easy-to-follow table format photos of the front covers, bullets related to each title, position of color plates, edition, and printing years.


Past sales of Ozma of Oz

I encourage you to compare my copies of Ozma of Oz to various other sources, such as Ebay or Amazon. I am so confident in my books and prices at which I offer them that you will undoubtedly choose my books, assuming the same edition and book condition.
---