Patchwork Girl of Oz by L.Frank Baum (c.1913)
Synopsis for Patchwork Girl of Oz
The magical practices and potions of the Land of Oz is the thread running through The Patchwork Girl. The story begins with a visit by a young Munchkin lad, Ojo the Unlucky, who with his Unc Nunkie visit a reclusive magician, Dr. Pipt. The old sorcerer has just completed the six year task of brewing a spoonful of the Powder of Life, and is preparing to administer it to a life-sized rag doll made by his wife Margolotte. The intent is to create a servant to help his wife in her chores, but unbeknownst to the magician, Ojo doctors the doll's brains. In the confusion that erupts as the Powder of Life performs its miracle, Margolotte and Unc Nunkie are turned into marble statues and the Patchwork Girl is brought to life quite unfit to ever be a servant. To restore life to the two hapless victims, Ojo undertakes a quest to find the ingredients for an antidote to the enchantment, accompanied by the Patchwork Girl and the Glass Cat, another creation of Dr. Pipt. A series of adventures ensue, as they brave new challenges and meet new and amazing peoples and lands in their hunt for the magical ingredients. Through the trials of this grand quest Ojo learns that he is no longer presumed to be ill-fated by circumstance of birth, and is known henceforth as Ojo the Lucky.

To veiw and read a full text of this title

Slide show of over 30 original images

Color plates position for 1st edition, 1st state copy (1-indicates opposite of the title page and also given page).


1913 - The Patchwork Girl of Oz (No inserted color plates, color is used in many of the text illustrations).



Please check the Inventory of Patchwork Girl of Oz in my store.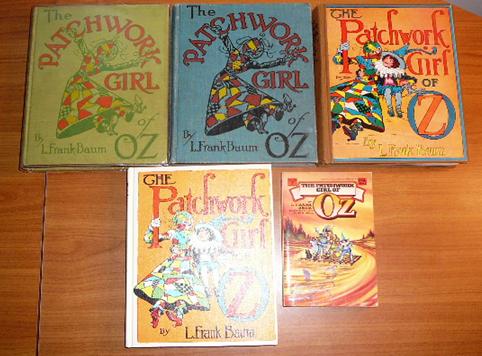 ---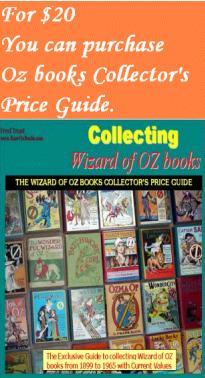 If you are interested in finding prices of collectible Oz books, including Ozma of Oz, please consider purchasing the Price Guide.

This Price Guide has up-to-date prices on almost all collectible Wizard of Oz series books and serves as the most useful tool whether you are interested in buying or selling!
The Guide covers the prices of all Famous Forty Oz books from first to later editions covering over 160 different variations of the same 40 Oz titles.
It not only provides the range of prices depending on the book grading level (Fine, Very Good, Good, Fair and Poor), but also includes in the easy-to-follow table format photos of the front covers, bullets related to each title, position of color plates, edition, and printing years.


Past sales of Patchwork Girl of Oz

I encourage you to compare my copies of Wizard of Oz to various other sources, such as Ebay or Amazon. I am so confident in my books and prices at which I offer them that you will undoubtedly choose my books, assuming the same edition and book condition.
---