Rinkitink in Oz by L.Frank Baum (c.1916)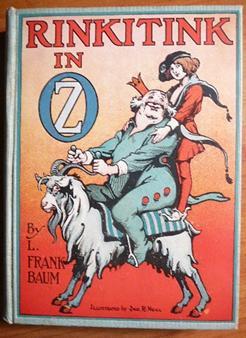 Synopsis for Rinkitink in Oz
Rinkitink of Oz is a tale of high adventure beginning in the islands of the Nonestic Ocean and eventually culminating in the darkness of the Nome King's Caverns. Rinkitink is the fun-loving runaway king of his eponomous land who accompanied by his beast of burden, a surly talking goat named Bilbil, makes his way to the beautiful and peaceful island of Pingaree. His timing, however, is poor for soon after his arrival the island is overrun by a marauding band of warriors who loot and pillage the entire island and carry all its inhabitants off to slavery on the twin islands of Regos and Coregos. Rinkitink, Bilbil, and the young Prince of Pingaree, Inga, escape capture and with the the help of three magic pearls they set out to rescue the Pingareeans and Inga's father and mother, King Kitticut and Queen Garee. After some successes and failures, they ultimately win the day and free all the slaves on the islands. But not before the wicked King Gos and Queen Cor escape with King Kitticut and Queen Garee as hostages. The action then shifts to the Nome King's Caverns. Inga and Rinkitink join forces with Dorothy and the Wizard of Oz to once more confront the Nomes in the dramatic conclusion to this tale of high adventure in the remoter regions of Oz.

To veiw and read a full text of this title

Slide show of over 30 original images

Color plates position for 1st edition, 1st state copy (1-indicates opposite of the title page and also given page).


1916 - Rinkitink in Oz - 12 plates(1,48,104,136,152,176,208,228,264,280,296,310).



Please check the Inventory of Rinkitink in Oz in my store.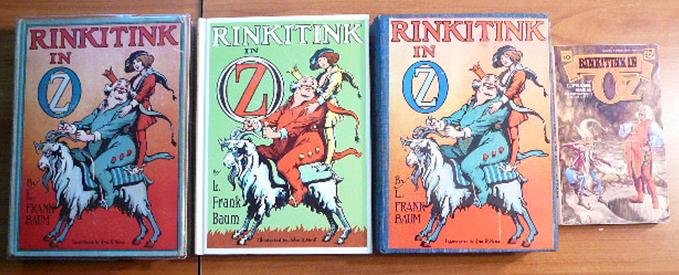 ---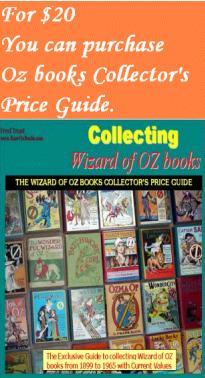 If you are interested in finding prices of collectible Oz books, including Ozma of Oz, please consider purchasing the Price Guide.

This Price Guide has up-to-date prices on almost all collectible Wizard of Oz series books and serves as the most useful tool whether you are interested in buying or selling!
The Guide covers the prices of all Famous Forty Oz books from first to later editions covering over 160 different variations of the same 40 Oz titles.
It not only provides the range of prices depending on the book grading level (Fine, Very Good, Good, Fair and Poor), but also includes in the easy-to-follow table format photos of the front covers, bullets related to each title, position of color plates, edition, and printing years.

Past sales of Rinkitink in Oz

I encourage you to compare my copies of Wizard of Oz to various other sources, such as Ebay or Amazon. I am so confident in my books and prices at which I offer them that you will undoubtedly choose my books, assuming the same edition and book condition.
---