Scarecrow of Oz by L.Frank Baum (c.1915)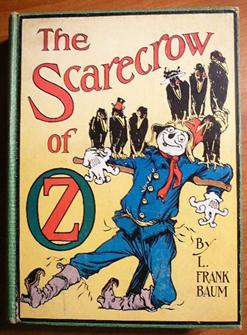 Synopsis for Scarecrow of Oz
Don't be fooled by the title. This isn't really a story about the Scarecrow; it is a tale that combines the adventures of new visitors to Oz who get mixed up in a royal love story. The newcomers to Oz are Trot and Cap't Bill. First introduced by Baum in The Sea Fairies and Sky Island, their first trip to Oz is by way of a whirlpool that deposits them in a cavern deep under the sea, and a strange flying creature called the Ork, that carries them to Jinxland, one of the remote outer regions of Oz. Along the way they have several amusing adventures and are joined by Button-Bright, a little boy from Philadelphia whose most predictable trait is to get lost. In Jinxland they engage in a dangerous and deadly encounter with a powerful witch who is aiding the king in his cruel plan to marry his daughter to someone she does not love. The daughter (Princess Gloria) is really in love with the gardener's boy, Pon. Learning of the desperate situation in Jinxland, Glinda the Good dispatches the Scarecrow on a rescue mission. But the Scarecrow is no match for the powerful witch and finds himself in his ultimate nightmare, being burned at the stake. How does the Scarecrow get out of this fix? And does Pon win Gloria's hand? What fate befalls the cruel king and evil witch? And does Button-Bright make it home to Philadelphia? These are surprises best left for the reader to discover. You're sure to enjoy this magical tale of adventure and love in the Land of Oz.

To veiw and read a full text of this title

Slide show of over 30 original images

Color plates position for 1st edition, 1st state copy (1-indicates opposite of the title page and also given page).
1915 - The Scarecrow of Oz - 12 plates(1,16,54,84,120,136,172,200,234,248,264,280).



Please check the Inventory of Scarecrow of Oz in my store.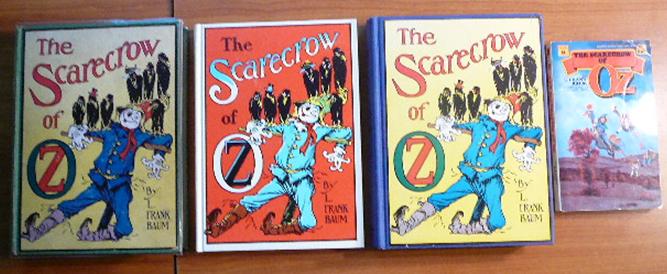 ---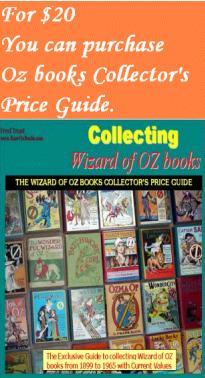 If you are interested in finding prices of collectible Oz books, including Ozma of Oz, please consider purchasing the Price Guide.

This Price Guide has up-to-date prices on almost all collectible Wizard of Oz series books and serves as the most useful tool whether you are interested in buying or selling!
The Guide covers the prices of all Famous Forty Oz books from first to later editions covering over 160 different variations of the same 40 Oz titles.
It not only provides the range of prices depending on the book grading level (Fine, Very Good, Good, Fair and Poor), but also includes in the easy-to-follow table format photos of the front covers, bullets related to each title, position of color plates, edition, and printing years.


Past sales of Scarecrow of Oz

I encourage you to compare my copies of Wizard of Oz to various other sources, such as Ebay or Amazon. I am so confident in my books and prices at which I offer them that you will undoubtedly choose my books, assuming the same edition and book condition.
---