Tik-Tok of Oz by L.Frank Baum (c.1914)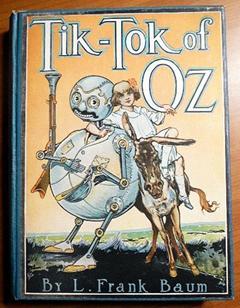 Synopsis for Tik-Tok of Oz
In Tik-Tok of Oz, the stalwart mechanical man goes to war when he is pressed into service as the only private in Ann Soforth's army. This restless Queen of the Oogaboos has set out to conquer Oz and the world beyond, but alters her plans to help the Shaggy Man rescue his brother from imprisonment by the Nome King. Joining this adventurous band in their quest is Betsy Bobbin, a young girl from Oklahoma, and her mule, Hank. Along with other magical fairies from the lands of Oz, they confront the Nome King; but not before this wiley creature has sent them through the earth to the other side into the mystical kingdom of the Private Citizen. This trick proves to be Ruggedo's downfall when the Private Citizen dispatches his Instrument of Vengence to remove the Nome King from his throne. In the end this great adventure concludes happily as the Oogabooians return safely home and Betsy, Hank, and the Shaggy Man and his newly freed brother are accepted by Ozma as permanent citizens of the Emerald City.

To veiw and read a full text of this title

Slide show of over 30 original images

Color plates position for 1st edition, 1st state copy (1-indicates opposite of the title page and also given page).


1914 - Tik-Tok of Oz - 12 plates(1,40,72,90,108,132,142,174,196,216,230,264).



Please check the Inventory of Tik-Tok of Oz in my store.



---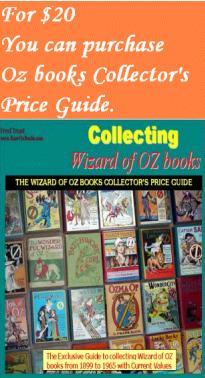 If you are interested in finding prices of collectible Oz books, including Ozma of Oz, please consider purchasing the Price Guide.

This Price Guide has up-to-date prices on almost all collectible Wizard of Oz series books and serves as the most useful tool whether you are interested in buying or selling!
The Guide covers the prices of all Famous Forty Oz books from first to later editions covering over 160 different variations of the same 40 Oz titles.
It not only provides the range of prices depending on the book grading level (Fine, Very Good, Good, Fair and Poor), but also includes in the easy-to-follow table format photos of the front covers, bullets related to each title, position of color plates, edition, and printing years.


Past sales of Tik-Tok of Oz

I encourage you to compare my copies of Wizard of Oz to various other sources, such as Ebay or Amazon. I am so confident in my books and prices at which I offer them that you will undoubtedly choose my books, assuming the same edition and book condition.
---