Tin Woodman of Oz by L.Frank Baum (c.1918)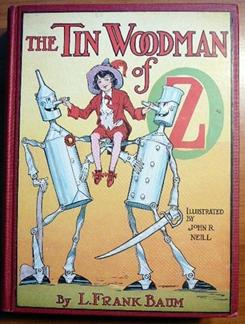 Synopsis for Tin Woodman of Oz
The Tin Woodman of Oz is a story of a heroic effort to regain a lost love. The adventure has its beginnings when the woodman explains to a young Munchkin boy, Woot how he came to be made of tin. It is a story of an ill-fated love between two Munchkins, Nick Chopper and Nimmie Amee, that so enraged the Wicked Witch of the East she caused the woodman to have accidents with his ax. After each accident the lost meat and bone parts were replaced with tin parts, until finally Nick was all tin. Nimmie Amee loved him just as much even though he was tin, but unfortunately he no longer had a heart so he could not return her love. After all these years have gone by, his sense of obligation and responsibility to Nimmie Amee is aroused by Woot; so together with the Scarecrow, he sets out to find and marry the Munchkin maiden. But their adventure seems ill-fated when they fall under the control of a giant wizardess. Ozma and Dorothy witness their plight through the Magic Picture and come to their aid. Together again, they set out once more to find Nimmie Amee, only to discover to their amazement, there is yet another tinman -- the Tin Soldier. He too was a Munchkin engaged to marry Nimmie Amee, but suffered the same fate as the woodchopper at the hands of the Wicked Witch of the East. Joining their party, the Tin Soldier also seeks to redeem his lost love. When at last they find Nimmie Amee, there is yet another surprise. This engaging tale by Baum must be regarded as one of the most inventive romantic stories yet told. The twist of fate revealed in the climax makes for a most enjoining experience.

To veiw and read a full text of this title

Slide show of over 30 original images

Color plates position for 1st edition, 1st state copy (1-indicates opposite of the title page and also given page).
1918 - The Tin Woodman of Oz - 12 plates(1,24,40,72,112,152,168,192,224,240,272,280).



Please check the Inventory of The Tin Woodman of Oz in my store.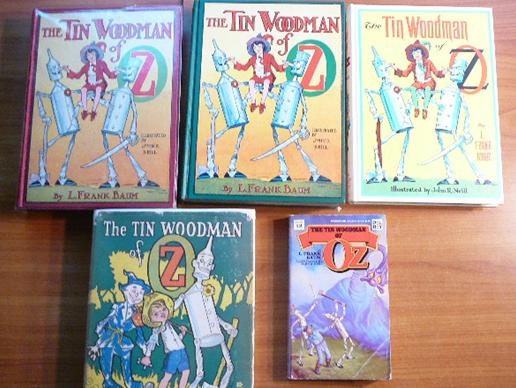 ---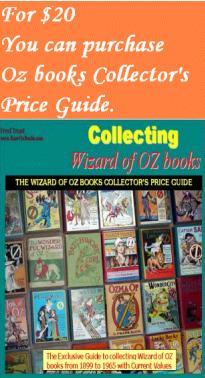 If you are interested in finding prices of collectible Oz books, including Ozma of Oz, please consider purchasing the Price Guide. Wizard of Oz series books and serves as the most useful tool whether you are interested in buying or selling!
The Guide covers the prices of all Famous Forty Oz books from first to later editions covering over 160 different variations of the same 40 Oz titles.
It not only provides the range of prices depending on the book grading level (Fine, Very Good, Good, Fair and Poor), but also includes in the easy-to-follow table format photos of the front covers, bullets related to each title, position of color plates, edition, and printing years.


Past sales of The Tin Woodman of Oz

I encourage you to compare my copies of Wizard of Oz to various other sources, such as Ebay or Amazon. I am so confident in my books and prices at which I offer them that you will undoubtedly choose my books, assuming the same edition and book condition.
---