Oz books Newsletter # 1 ( February 2008)
Oz books with dust jackets
Wizard of Oz books are no exception to the rule that the presence of dust jacket has generally more importance in the area of the children's picturebook hobby than in the area of book collecting in general.
Artwork that is ultimately selected for the dust jacket cover is one of the most important marketing decisions made by the book's creators and publishers like Reilly & Britton, Reilly & Lee, Bobbs Merrill and Donohue.
In many cases, the initial retail purchase decision of the Oz series book is based entirely on the attractiveness of the artwork, often illustrated by John Neill in most Famous Forty Oz books. The old saying, "You can't judge a book by its cover!," does not necessarily apply to OZ books. The same cannot be said for books in general.
Books in dust jackets (based on the year of DJ and its condition) raise the value of OZ books to up to 10 times. Moreover, early dust jackets before 1935s are very hard to find and as a result, the prices for those books with dust jackets intact usually increase their value by over 300%! Even worn or damaged dust jackets add significant value to early editions of OZ books.
First edition books without dust jackets, when originally issued, have a greatly reduced market value. Still, they have some collectible interest. My experience indicates that the value for a first edition book, without its dust jacket, is about 10%-to-20% of the value of the same book, in similar condition, with the dust jacket intact.
Many Oz collectors are hard pressed to find Oz series books in DJs because in many cases dust jackets of Oz books are discarded almost immediately after purchase. DJs often interfere with the child's opening and reading the book, or are torn as a result of the enthusiastic enjoyment of the book by a child and ultimately discarded. The scarcity of DJs only increases the value of any edition of Oz series books with intact dust jackets.
In many instances, the dust jackets serve to fully identify the book as a genuine first edition. This is especially true for Oz books. The dust jacket often has the price on the top right flap, and additional information which could be vital to identification of book edition. Sometimes the back flap might contain a listing of previously published titles that are essential to proper identification of edition of OZ book.
It should also be noted that books that were protected by DJ over the years usually are in Very Good to Fine condition.
---
Below are some examples of books in dust jackets that were sold in the recent years.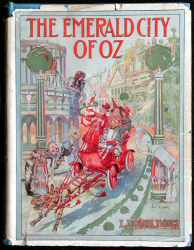 This is an example of the 1st edition of Emerald City of OZ from 1910 with its original Dust Jacket that was publsihed by Reilly & Britton. This book sold in 2004 for $9.975. Usually this book when in Fine condition can be found for under $1000. Here the dust jacket increased the value of the book almost 10 times. Since Dust Jacket is in one piece, it is considered to be in Very Good condition.






Below is Dust Jacket from 3rd edition 1st state copy of Wizard of OZ that was printed in 1913 by Donohue. Usually this particular title in Fine condition can be found for around $200. Presence of the Dust Jacket below in poor condition again raised the price of the book, and it was sold for around $600 on Ebay.





Below is a photo of the rare dust jacket from the first edition of Road to Oz. The jacket is in a private collection.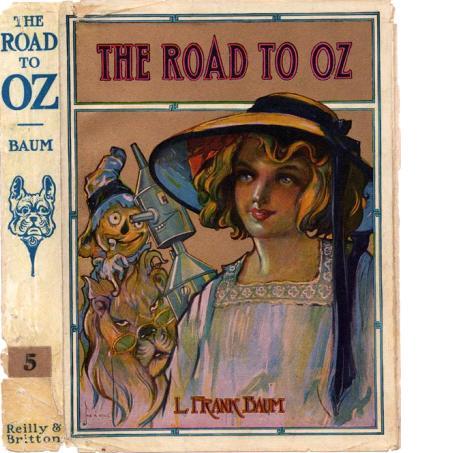 Below is an example of the 1st edition of Royal Book of OZ in 1st Dust Jacket based on Advertisement section, but in poor condition. This book usually sells for under $200 in Fine condition, but presence of poor DJ raised the book price to $332 on Ebay.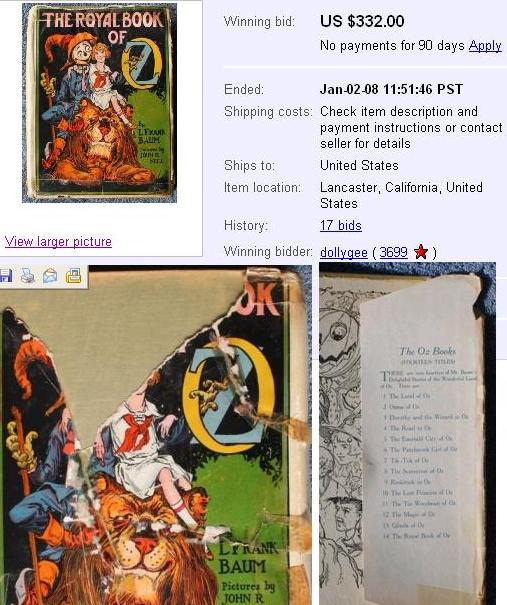 Below is a an example of the of 1st edition 1st state Tin Woodman of Oz in 1st Dust Jacket. It was published in 1918 by Reilly & Britton. Although the front plate of the book has some minor damage, this book sold for $1300, mostly due to the DJ. If book was selling separately, it would fetch around $400.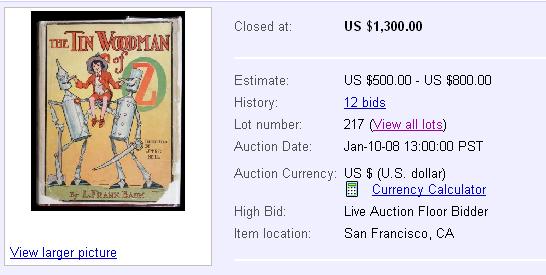 Below is an example of book condition under protection of the Dust Jacket. This is 1st edition 2nd state book that was published in 1912. (True First edition was published in 1908.) Dust Jacket in this book was in Fair condition and has the advertisement section on the back of the book and not on the flap. Usually 2nd state title in this condition can be purchased for around $300, but presence of the Dust Jacket raised price of the book to $787.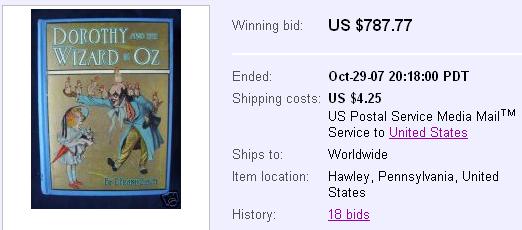 Lastly is the Lost Princess of Oz (1917) that was sold in 1st edition Dust Jacket. Book is in very good condition, but has some water damage on the lower back cover affecting the book and Dust Jacket. Although I don't have photo of the book, it was sold for over $1000 on Ebay.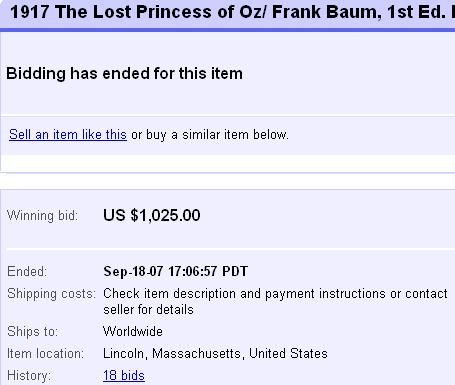 If you are interested to obtain or check my inventory of books with Dust Jackets, please check this link Wizard of OZ books with Dust Jackets
---

Return from this Dust ajcket is Oz article page to Oz Newsletter page
Return from this Dust jackets in Oz page to Wizard of Oz books home page