China Girl doll
The "Dainty China Country," as Baum named it, and its characters such as the China Girl, were excluded from the 1939 film adaptation The Wizard of Oz due to time constraints. The China Country was reintroduced in the 2013 prequel Oz the Great and Powerful, including the appearance of the young China Girl.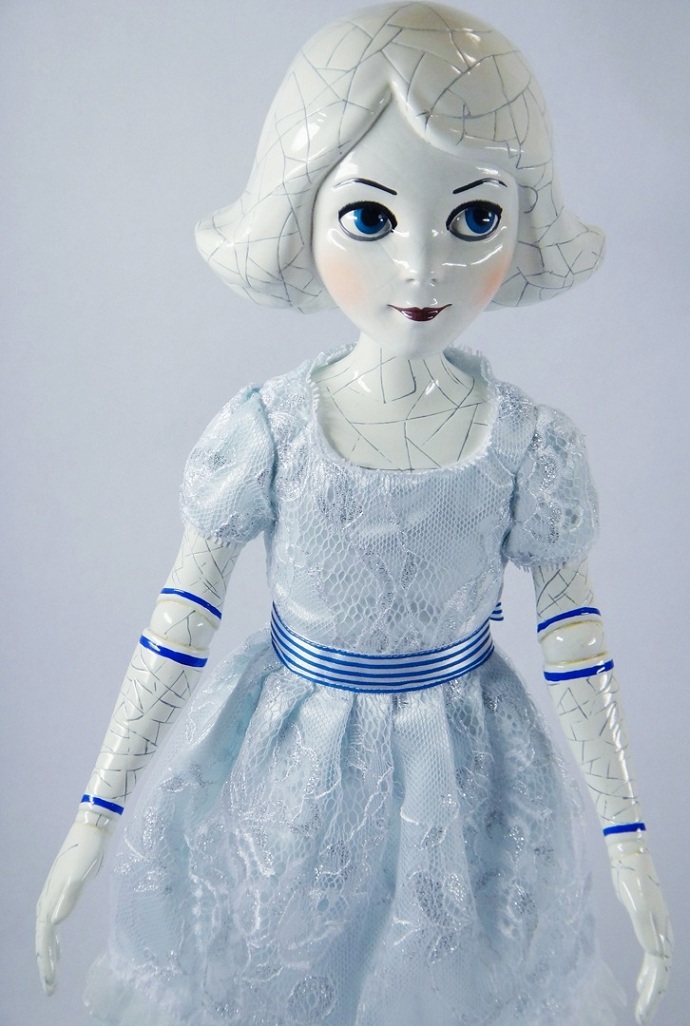 Not surprisingly, the China Girl character inspired many new Oz fans. In the United States, the China Girl became so popular that she even got her own Facebook page:
www.facebook.com/pages/China-Girl-Oz/351992788249364?ref=stream
Out of all the people who were inspired by the movie, I would like to concentrate on an internationally acclaimed artist Natalia Babi, who decided to create the contemporary painting based on the China Girl. Her painting is on a 25" x 25" canvas.
Recently, Natalia decided to sell her original oil painting on eBay. There was no knowing how much it would go for.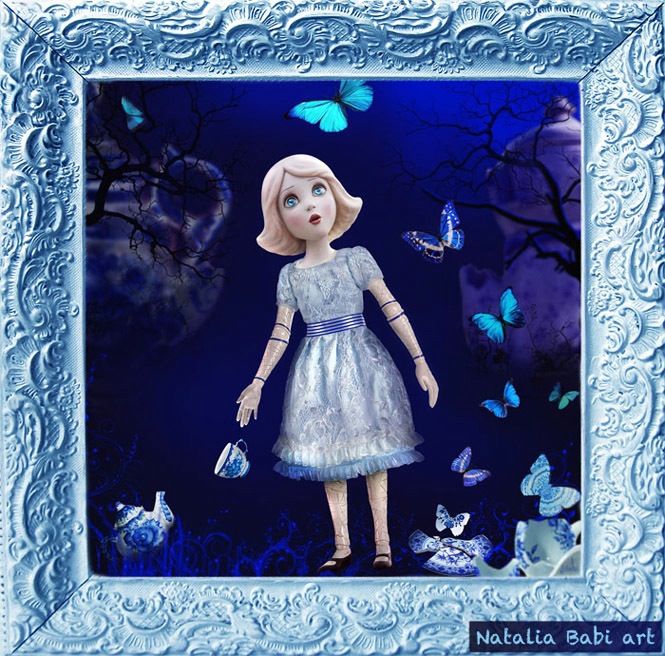 After completion of the ten day auction, competing against other online bidders, I want to report that I am the lucky winner of this auction, having paid just over $100,000 for it.
Information about this painting on WhatSellsBest.com


I love her unusual detailed artwork. It reminds me of a filigree jeweler's masterpiece, and like the happy ending of any other fairy tale, the artist introduced a concept of transforming the broken china pieces into wonderful fly-away butterflies. Certainly it will become a unique collectible item for my Oz collection.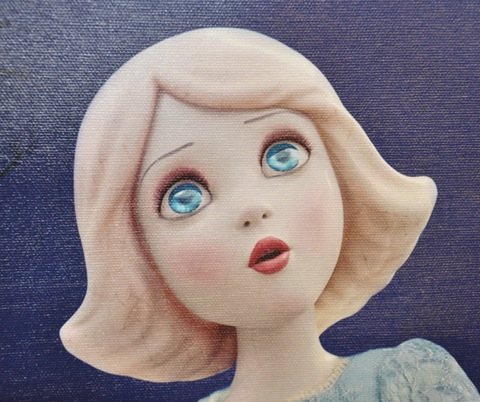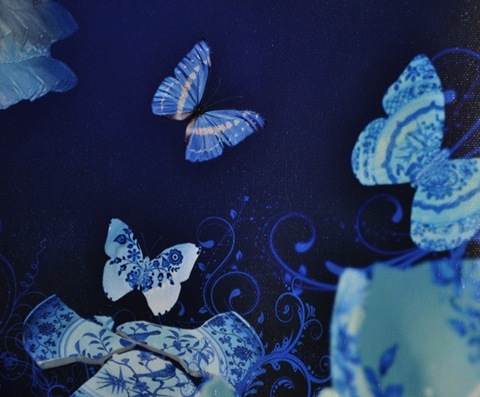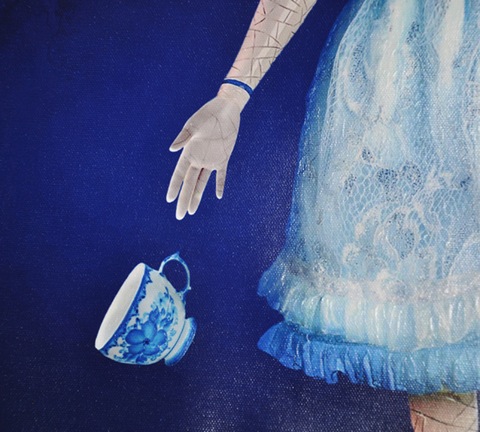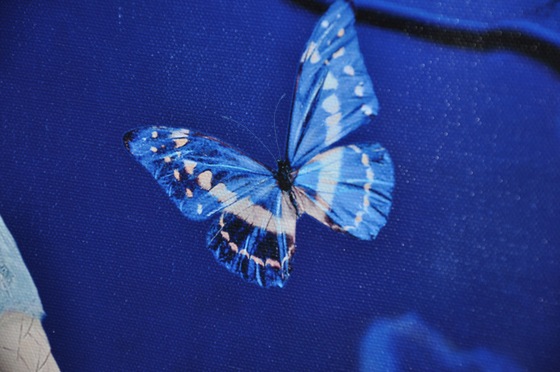 At this point, it is most valuable piece in my collection and I have big plans for this piece of work. As many of you aware, I own Bill Eubanks' original Oz puppets which he used in live performances.
http://www.rareozbooks.com/wizard-of-oz-puppets.html

I was contacted to display my collection of one of-a-kind marionettes in the National Museum of American History, since they are in the process of reconstruction in order to build a new Entertainment wing in 2014. Since they have in their possession a set of original ruby slippers  and the original Scarecrow costume, they are planning to dedicate section of the new wing of the museum to The Wizard of Oz, and Oz puppets would fit nicely there.  I contacted the museum curator to inquire if they would be interested in the China Girl painting, and they expressed a definite interest to display it.
Paintings of iconic Oz characters have been known to fetch substantial prices in years past, especially when done by a known artist.  For example, in 2011 an Andy Warhol panting of Oz's Wicked Witch of the West fetched $2.3 million (before the buyer's premium) and Limited Edition Reproductions on canvas have fetched around $80,000.
Although the China Girl painting is the first Oz painting by well known Russian-American artist Natalia Babi, her impressive list of clients and art patrons include: George Clooney, Tom Cruise, Rod Stewart, Michael Douglas, Brad Pitt, Bill Gates, Tom Hanks, Warren Buffett, Elizabeth Taylor, the Dalai Lama, Nikas Safronov, Sophia Loren, Oksana Baiul, Placido Domingo, Luciano Pavarotti, Dmitri Hvorostovsky and more.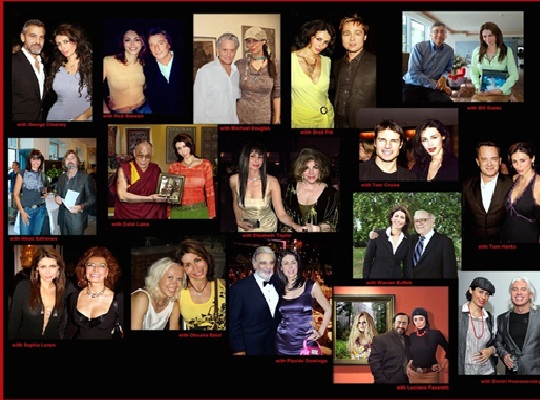 If readers are interested to see other paintings by Natalia Babi, the video below showcases some of her work.
Disney Company, in early production of the movie, realized that the China Girl was a unique character and would win the hearts of new Oz and doll collectors. Oz the Great and Powerful cost Disney around $200 million to produce, and $100 million in advertising. At this moment, Disney has already grossed over $470 million from this movie, and  is projected to make over $1 billion based on various sources.
http://www.businesswire.com/news/home/20130417005535/en/%E2%80%98OZ-GREAT-POWERFUL%E2%80%99-Director-Sam-Raimi-Receives
Additional revenue is expected to be realized from future sales of DVD and various Oz dolls, cosmetics, costumes, and more.
The U.S. Disney Store released a limited edition of 500 China Girl Dolls (online) at $179.50 apiece on February 4, 2013. Reportedly, all the dolls sold out within two days. Shortly thereafter, new-in-box China Girl dolls fetched up to $1,000 online.
VIDEO: Disney's Limited Edition China Doll (Source: YouTube)
Worldwide, The Wizard of Oz is a phenomenon that far exceeds its impact in America alone. For example, half the revenues from the movie Oz the Great and Powerful were realized outside of the US.
Another event that most likely will contribute to an Oz renaissance is a new Wizard of Oz musical that has been presented in London last year by Andrew Lloyd Webber. That production is now running in Canada and it is only a matter of time before this musical hits US performance theaters.
After purchasing the original painting and explaining my plans with the artist of displaying it in a museum, I was able to convince Natalia Babi to give me exclusive right to sell Limited Edition Reproductions of the China Girl at the original size through my website or on eBay.
We decided that we will have a Limited Edition Print on Canvas of 100. Natalia also insisted that she will need to perform an artist's proof  of each individually and hand sign each one. She also plans to provide a certificate of authenticity with her custom personal stamp.
I agreed with her stipulations and plan to sell to my clients the first ten top quality canvas prints… and maybe list the remaining prints on eBay in time.
An interesting question came to mind, related to how to price each museum-quality giclée. I did some research of past auctions, comparing prices of original paintings in relation to limited edition reproductions, and am providing two examples based on my research below:
First example
Acrylic and Silkscreen "The Witch" from Myth Series, ink on canvas, signed and dated by Andy Warhol 1981. It sold for $2.3M in 2011, while limited edition reproductions from an edition of 230 sold for $79,000 in 2008.
http://www.christies.com/lotfinder/prints-multiples/andy-warhol-witch-from-myths-5063379-details.aspx
Based on the above facts, the limited edition giclée sold for around 3.5% of original painting price. It should be also noted that the percentage might drop with larger quantities of the limited edition.
Second example
I also perform a search on eBay, trying to locate original painting prices in relation to limited edition reproductions of the same painting. An example that I was able to find is related to a Vladimir Kush painting that is currently listed on eBay.  It is a small original painting, sized at 11"x 14", named "Hibiscus Dancer" that is being offered for $75,000. 
I found a few limited edition reproductions that are actually selling at the time of writing from $2,650 to $5,400. It should also be noted that the number of limited edition reproductions for Kush's work is on average 300 prints. That is three times more that we are printing for the China Girl print.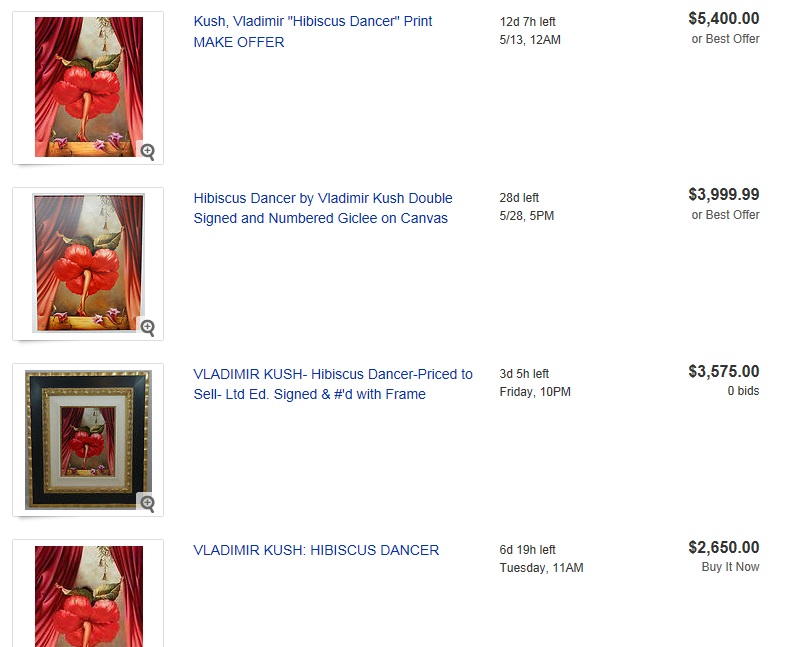 In conclusion, based on my research and facts, China Girl limited edition reproductions should fetch around $5,000 based on the logic below.
original painting sold for over $100,000

limited number of only 100 prints

every print goes through artist proof

each piece is printed on canvas

each print is hand-signed with paint by the artist

each limited edition reproduction is presented with certificate of authenticity (numbered, signed and stamped) by artist
I hope Natalia Babi's credentials and desire to further expose Oz will be a great addition to the world of Oz.
---