Wizard of Oz unique items in recent auction
Every so often there is an auction sale that offers unique items related to a specific topic of interest. In the Wizard of Oz world, such an auction took place a couple of weeks ago in New York and featured the collection of Fred Meyers, an icon in the Wizard of Oz world.
In 1957, Fred Meyers helped thirteen-year-old Justin Schiller to establish The International Wizard of Oz Club where he served for nearly forty years.
At a recent Bloomsbury auction held a few weks ago, featured over 250 Wizard of Oz related items. Many of the items fetched very high bids, thus reaffirming interest in the value of the Frank Baum, Ruth Thompson, John Neill and Dick Martin memorabilia.
All prices exclude the customary 20% auction commission's fees and taxes.

1. Frank Baum. First edition, second state The Wonderful Wizard of Oz with inscription on the front blank endpaper
This estimated appraised value of this item was estimated to be between $40,000 and $60,000. The maximum bid, however, reached $32,000, which did not meet the minimum reserve price. It is extremely rare to find the Frank Baum's inscription, and having the whole page inscribed by Frank Baum is quite extraordinary.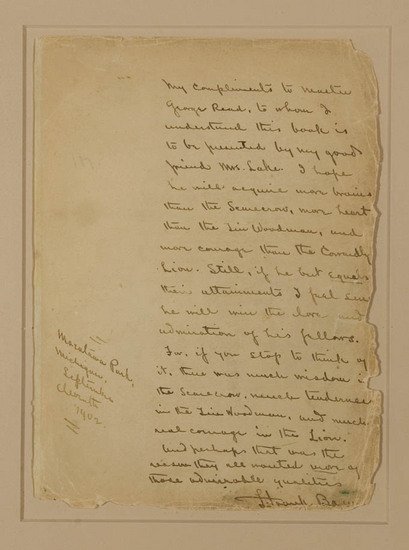 2. John Neill Peter and the Princess
This particular painting of John Neill was used as endpapers for Peter and the Princess. John Neill painted the color plates for only five children's books, Dorothy and the Wizard of OZ (1908), Emerald City of Oz (1910), The Sea Fairies (1911), Peter and the Princess (1920), and Andersen's Fairy Tales (1923).
All of his other color plates were drawn in ink only and the colors were added by the printers and not always according to the artist's instructions. Relatively few of Neill's watercolors survived.
This painting is the only known work of art for Peter and the Princess owned outside of the Neill family. This estimate value of this painting was between $12,000 and $15,000, and it was sold at the auction for $13,000.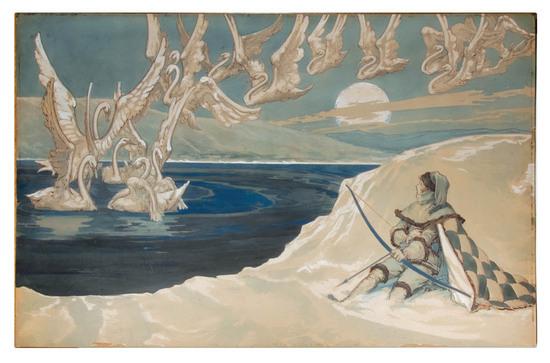 3. John Neill. Drawing The Wonder City of Oz
There are very few John Neill color paintings that have survived.
Ones that did survive are mostly pen-and-ink drawings. An example of this pen-and-ink drawing offered at the recent auction was the drawing for The Wonder City of Oz.
This splendid illustration was intended for Chapter 21 ("Dumb Boy Gets a Smart Job"); but when the story was revised, the Patchwork Girl and Jenny Jump were removed, and the picture ended up in Chapter 23 ("The Slide to Freedom").
This particular piece of artwork had an estimated value of $4,000 to $6,000 and sold for $8500.
Remaining small ink drawings from The Wonder City of Oz were sold for under $2000, and the one page drawing from Tik-Tok of Oz (1914) was sold for $4,600.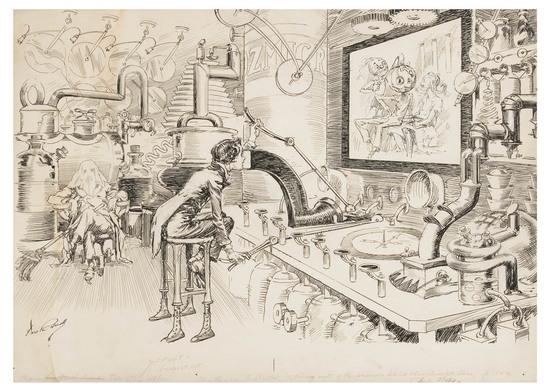 4. McGraw & Wagner. Merry Go Round in Oz by Frank Baum
The auction offered the original manuscript of the fortieth title, Merry Go Round, with two sketches by Dick Martin, at an estimated value between $10,000 and $15,000.
Althought it reached $7,500, it did not reach the minimum reserve price.
Many are the rare hard to find drawings by Dick Martins can be found at reasonable prices.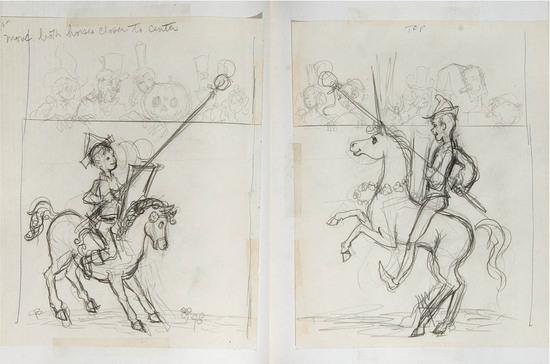 5. Frank Baum. By the Candelabra's Glare signed by Frank Baum
Privately printed by L. Frank Baum in his own Workshop in 1898, this was No. 29 of 99 copies, inscribed by the author to Dr. Espy L. Smith, the Baum family doctor.
Baum personally set the type and printed and bound the book in his basement.
Only family and friends received copies of the book, and it is unknown whether Baum completed all 99 copies as there are large gaps in the numbering of those that have survived.
By the Candelabra's Glare was the first book by Baum to contain pictures by W. W. Denslow.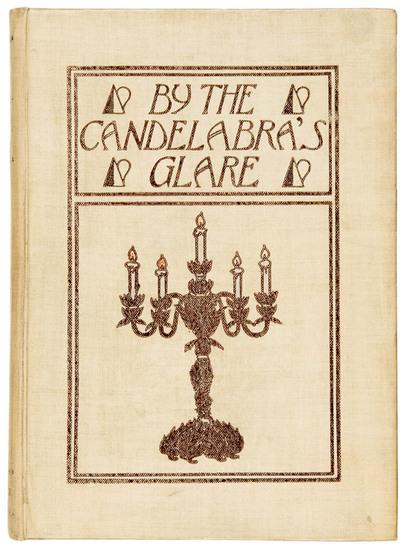 Number one of 99 copies was dedicated to his son. By the Candelabra's Glare estimated value was between $8000 and $10,000, and it was sold for $8000.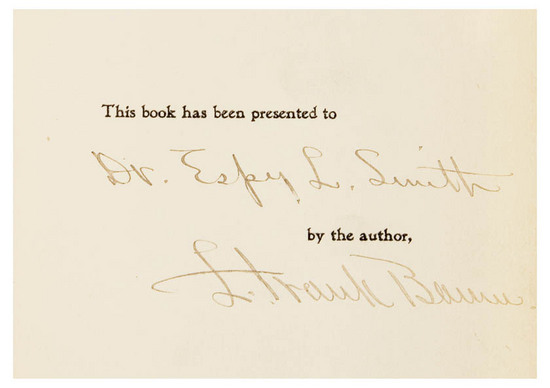 6. Frank Baum The Tik-Tok Man of Oz - Rare Poster
An interesting fact about this color lithograph is that it is the only known surviving poster of this early Oz musical.
This poster's estimated value was between $7000 and $10,000. Althout it reached $6,500, it did not reached the reserve price.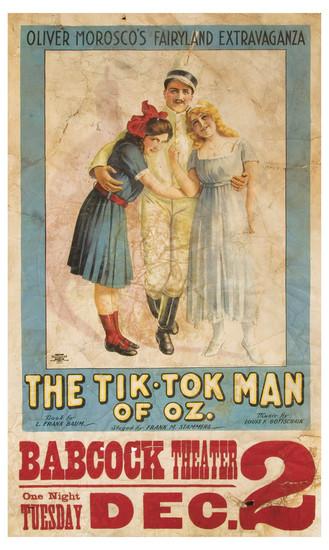 7. Wogglebug Game of Conundrums
This is a 1905 complete set of 51 gray colored Conundrum cards and 51 buff-colored Answer cards with one page "Rules for Playing The Woggle Bug Game" and Parker Bros. flyer for two other card games, Pit and Block.
This game's estimated value was between $2500 and $3,500, and it was sold for $4,400.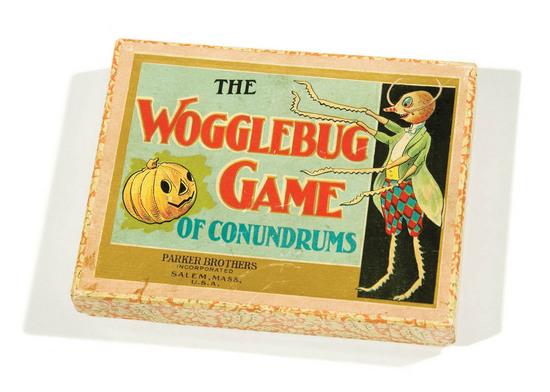 8. Maid of Arran – Pamphlet of Songs
This is a rare pamphlet of songs with music and lyrics by L. Frank Baum, March 14, 1883.
Baum had printed up a collection of six of the songs in the show all composed by the author and starred in the show himself. The pamphlet was sold in the lobby of the theater where the play was appearing.
Only a few copies of this fragile pamphlet are known to have survived. The estimated value of this item was between $4,000 and $5,000, and it was sold for $4,200.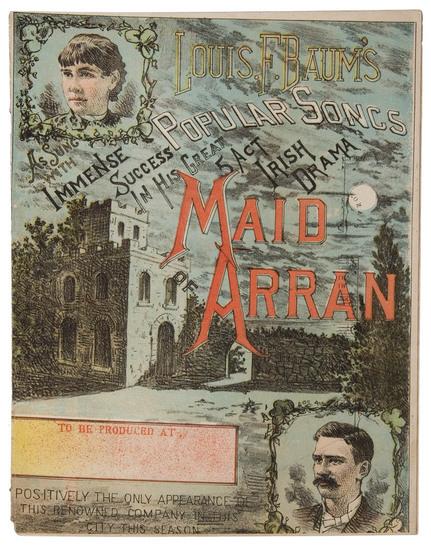 9. Frank Baum. Boy Fortune Hunters...South Seas
In this auction there was a collection of five books from the Boy Fortune series (Panama, China, Alaska, Egypt and South Seas).
Only the South Seas book was in a original dust jacket and sold for $3,400. The other four books in this series did not have dust jackets and sold in the range from $100 to $300.
L.Frank Baum books with dust jackets demands much higher prices than those without dust jackets.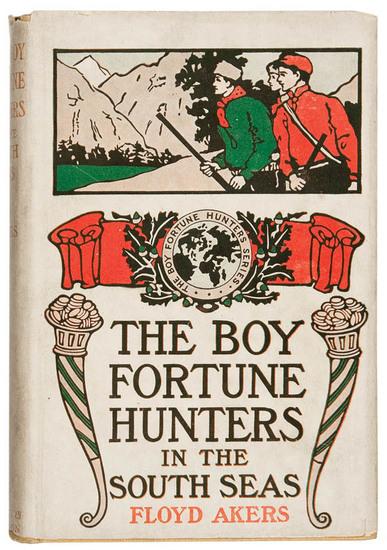 10. Frank Baum Glinda of Oz. 1st Edition
The 12 Wizard of Oz books by Frank Baum without dust jackets, sold from $550 to $1,200.
The last title, Glinda of Oz, was in the first dust jacket sold for $2400!
Wizard of Oz related books by Ruth Thompson sold from $300 to $1,600. Other Wizard of Oz titles, post -1940, sold from $350 to $450.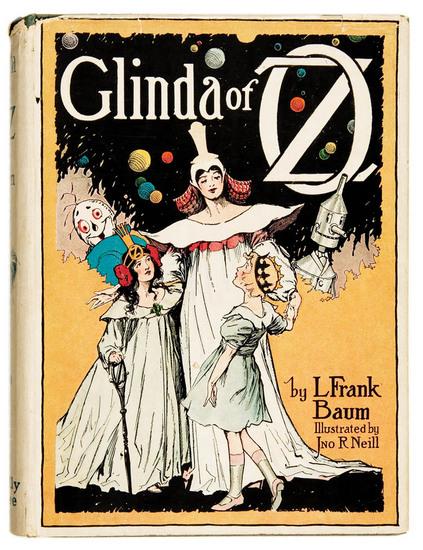 ---
Cover of Bloomsbury auction featured the Wonderful Wizard of Oz Game circa 1921 by Parker Brothers.
There were two states to this game. The earliest state featured pewter pieces of the characters of the Wizard of Oz and in the second state they were wooden.
A first state of the pewter version of the game is extremely rare and hard to find. Fred Meyers in over 40 years of collecting was not able to find the "1st state copy" since his version of the game had wooden, not pewter pieces!)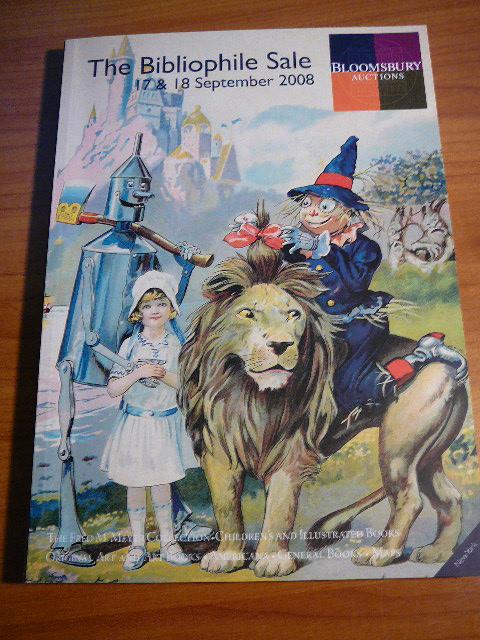 For collectors who are interested to obtain John Neills or Dick Martins artwork, please check links below
John Neills available artworks
Dick Martins available artworks
---

Return from this Wizard of Oz unique items page to Oz Newsletter page

Return from this Oz rare items page to Wizard of Oz books home page