Wizard of Oz blog - 2009 entries
Cutting Edge Instrumental Church Music
The Wizard of Oz is on tonight for the gazillionth time, and it reminded me of a funny story I heard a couple of years ago. We were in Nashville for a sad occasion — the funeral of a family member. Debbie was responsible for the arrangements, and we got to know the funeral director pretty well. He told us this story one afternoon:
A family had made arrangements for the funeral service of the matriarch of the family. When asked about music for the service, the family commented that their mother's favorite song was Somewhere Over The Rainbow from The Wizard of Oz.
Of course, no one could sing it like Judy Garland, so they decided to use the CD soundtrack from the movie. Somewhere Over The Rainbow was to be played as the casket was rolled into the chapel.
Everything was ready for the service to begin, and the funeral home started the CD. But, for some reason the family lingered, delaying their entry and the entry of the casket into the chapel. Somewhere Over The Rainbow played over the chapel speakers, as the captivating voice of Judy Garland sang a mother's favorite song.
Just as Somewhere Over The Rainbow was ending, the family was ready, the chapel doors opened, and the casket was rolled in. Unfortunately, no one stopped the CD. As Judy Garland's voice faded away, the next track on the CD kicked in. Ding Dong The Witch is Dead blared out in the serenity of the chapel to the chagrin of family, friends, and funeral home. Fortunately, the technician stopped the CD before the munchkins all began to sing in unison, but the damage was already done.
And that, my friends, is why I do not like to use recorded music at funerals.
---
Are you looking for Halloween costume? You can get some ideas from our leaders.

Great post on Theosophist - L. Frank Baum
---
The Wizard of Oz 70th Anniversary Edition on DVD
Travel to the Land of Oz with Warner Home Video's re-mastered Blu-ray and DVD release, The Wizard of Oz 70th Anniversary Ultimate Collector's Edition, debuting September 29th, 2009. Featuring resolution six times higher than the standard DVD, the film's release will be sheer perfection, marking a historic benchmark in the Blu-ray format. The limited and numbered Ultimate Collector's Editions will feature 16 hours of bonus features – including four hours of never before seen footage. These packages will bear a silver label each containing a specific numbered version; once they sell out, they will never again be available to consumers.
In this charming film adapted from L. Frank Baum's timeless children's tale, Dorothy and her dog Toto are caught in a tornado's path and somehow end up in the Land of Oz. "The Wizard of Oz" opened on Aug. 15, 1939 and is ranked among the top 10 best movies of all-time. The film received five Academy Award® nominations, including Best Picture and captured two Oscars® – Best Song ("Over the Rainbow") and Best Original Score – plus a special award for Outstanding Juvenile Performance by Judy Garland.
Have the "brain, heart and courage" to visit the official website
for more information on events and products. Also become a fan of the official Facebook page for various OZ possessions at Facebook
---
Dakota Fanning may step into Dorothy's shoes for new Wizard of Oz
---
Michael Jackson in "The Wiz"
---
Oz discussion at Geppi's Museum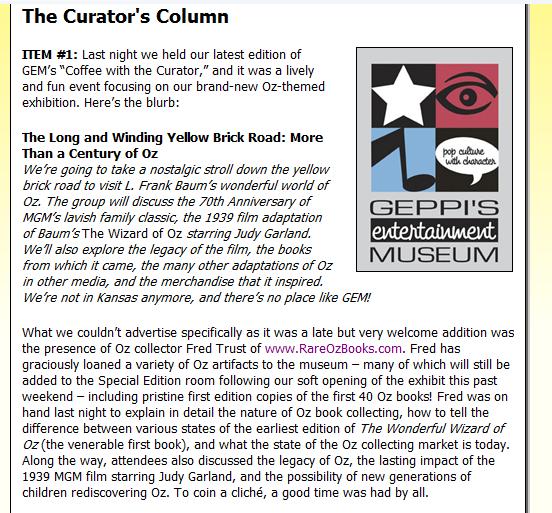 ---
Books from my collection on display in the Geppy museum in Baltimore
Below is information about this exibition from Gepy Museum website
Take a nostalgic stroll down the yellow brick road to celebrate the 70th anniversary of MGM's lavish family classic, the 1939 adaptation of L. Frank Baum's The Wizard of Oz, starring Judy Garland. Explore the legacy of the film, the books from which it came and the merchandise that it inspired.
Preview of books from my collection
---
Another New Oz Movie In The Works...
Article from independentstoriesinc.com
---
MGM ANNOUNCES WIZARD OF OZ REMAKE
Article from scrapetv.com
---
ANDREW LLOYD WEBBERS WIZARD OF OZ PRODUCTION
Article from broadwayworld.com
---
45 years of "The Wizard"
I recently obtain a book and found newspaper article from 1944. Below is an article.
Proceeding through a bookstore the other day, we learned that L. Frank Baum's book for youngsters, The Wizard of OZ, had recently been reissued ( Bobbs-Merrill Co., Inidanapolis, 1944, 209 pp. 61 illustrations, $1.75). The book has been in circulation since 1900.

Many children's books each year are ballyhooed by critics as something stupendous, but this particular one, which critics and serious thinkers never did fancy much, goes on seemingly forever. Why?

Out theory is that it survives and prospers because it is a fairy tale of strictly American kind, with a deep appeal to one of the best American characteristics.

The story has to do with ....(decription of the story)


What the story says, then is: Don't believe in the big, b ad wolf ... don't be overawed by people who talk big... dig out the facts for yourself ... don't depend on hearsay and propaganda.

It was that attitude, if you'll pardon a bit of flag-waving, that did much to make this country great. The latest achievement to its credit was that it kept us from being intimidated by Messrs. Hitler and Tojo when they were ridding their highest and widest, and inspired us in due time to step up and contribute heavily to the slapping of them down.

Let's just hang onto that realistic, inquiring, skeptical and fearless attitude of mine. It's priceless national asset.
---
Investing safe haven: Collectible Oz books
In this economic times, many investors looking for new and creative way to diversify their portfolio in hope to avoid the volatility of the stock market and boringness of bonds. Today's economic times reminds me somehow early 1980s US economy. I recently read an interesting article that was published in 1982 by Time magazine. I found a few phrases and statistics in this article that can still apply to today's market. Phrase like
"Rare books make rich men wise and wise men rich."
Example where a collection of rare books that cost $50,000 to build, can be donated to a library and deducted from taxes at the current value. So the collecting is free, and the gift may be named for the donor.
Full article from Time magazine
---
List of the collectable books connected to the American Film Institute's list of the 100 greatest movies of all time
Wizard of Oz is number 6 in the list of top 100, but you can see a whole list here
---
CGI Animated Wizard of Oz Film Well Under Way
Some Oz fans may enjoy reading this article
---
Wonderful Wizard of Oz and other early edition dust jackets
Some Oz fans may enjoy seeing early edition dust jackets. If interested,
Wizard of Oz dust jacket -- click for a full blog
---
Preview of a new documentary film related to Wizard of Oz
Some Oz fans may enjoy watching a preview of this documetary film. If interested,
Frank Baum documentary -- click to watch a preview ( top left corner)
---
EX LIBRIS BOOKPLATE of Frank Baum
Some reader may enjoy an article on Ephemera as a natural accompaniment to books. If interested,
Frank Baum bookplate-- click for a full blog
---
The Wonderful Game of Oz from 1921

I recently acquired a rare The Wonderful Game of Oz and...
Wonderful Game of Oz-- click for a full blog
---
The Wonderful Weekend of Oz

The 2008 IWOC National Convention will be held in Fayetteville, New York, October 10-12.
2008 Oz Convention-- click for a full blog
---
Favorite Oz title(s)

Many Oz enthusiast have their own favorite Oz titles. Patchwork Girl Of Oz and Rinkitink in Oz was Ruth Thompsons favorite titles from Baums First fourteen Oz titles. Frank Baums favorite book was not even from the Oz series. It was Queen Zixi of IX. As of this point most favorite Oz titles out of First Forty by people who visisted and voted are ...
Popular Oz title survey-- click to find
---
Great blog for Oz enthusiast
I recently discover a new blog that was created in February of 2008. Bill Campbell, posting his rare Oz books collection and providing comments to support his point of view. If interested,
Oz enthusiast blog-- click for a full blog
---
Original Wonderful Wizard of Oz book
There were only 10,000 copies of The Wonderful Wizard of Oz published by Geo M. Hill in September 1899 that constitute first state of the first editions ....


Wonderful Wizard of OZ -- click for a full blog
---

Preserve or restore Oz books ?
Should you preserve your Oz books or restore them? I was recently at the dealership waiting for the maintenance of my car. . .


Preserve or Restore-- click for a full blog
---
eBay Scams
There are many scams out there to keep an eye out for when you are selling on eBay. This article will cover a few of the known and not so known scams ...


eBay Scams --click for full blog